PALM SPRINGS, CA – Fashion and lifestyle guru Kennedy Frazer recently took a trip to Palm Springs with gal pals Kelsey Breisinger, Bailey Marshall, and Kim Murashima. They stayed at two Acme Vacation Home Rentals – The Kirk Douglas House and For The Record – and had such a fabulous time lounging by the pool, soaking up the sun, and of course, shopping!
Everyone knows that Palm Springs is a fabulous shopping destination. Whether you're looking for chic boutiques, designer shops, vintage finds, or amazing galleries, Palm Springs has it all.
Here are some shops that we think are great and definitely worth checking out while in Palm Springs.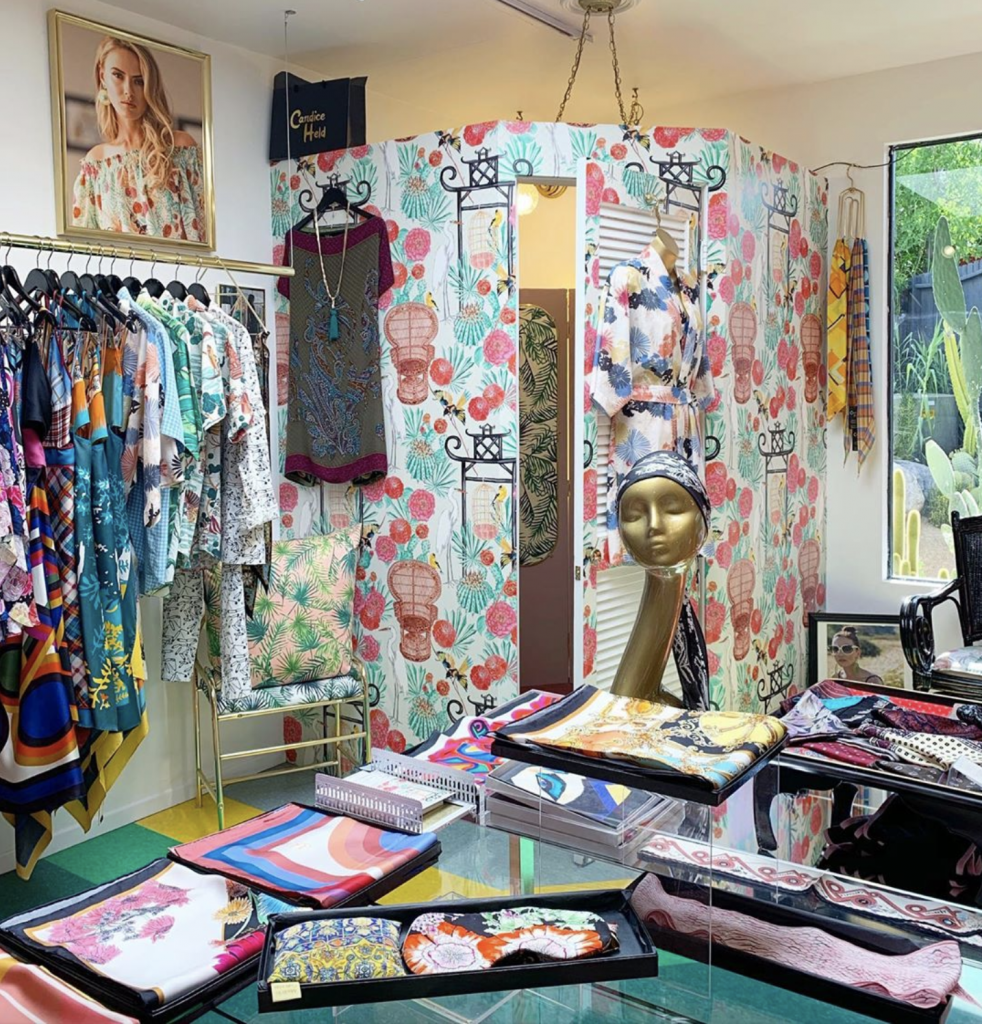 The Shops at 1345 features a collection of 14 fabulous shops. They're all air-conditioned and you'll find all sorts of cool products. Be sure to stop at Candice Held – she is a dear friend of Acme House Company and we just love her fashion!
Influencers Elizabeth Odom Baker, Nick Yedinak, Dawn McCoy, Dana Patterson, Arianna Thormopoulos, Ajeet Mann, and Nita Mann at Christopher Kennedy's showroom


Next, head down the street to Christopher Kennedy's Showroom for fabulous mid century modern furniture and decor. Christopher Kennedy is Palm Springs' very own Modernism Week darling – the man behind the annual Modernism Week Designer Show House. His showroom does not disappoint.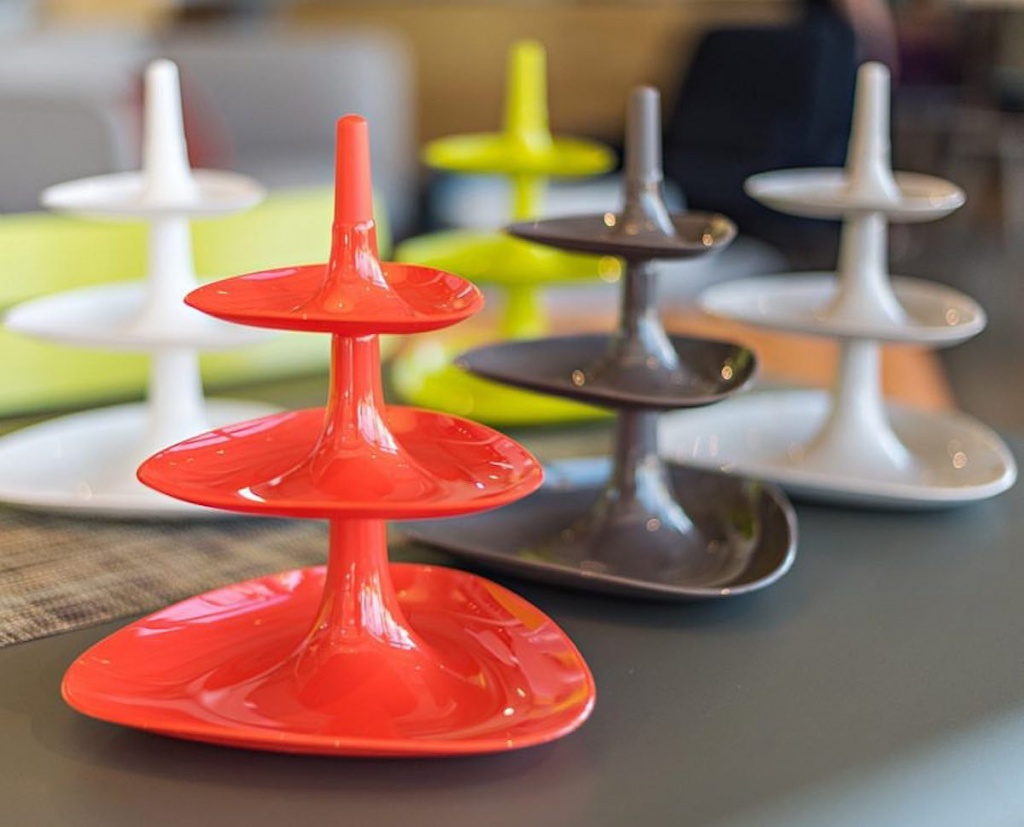 Next to Christopher Kennedy's showroom is Pelago. Their furniture and home accessories are stunning! If you want to get the Palm Springs vibe, that's the place to go.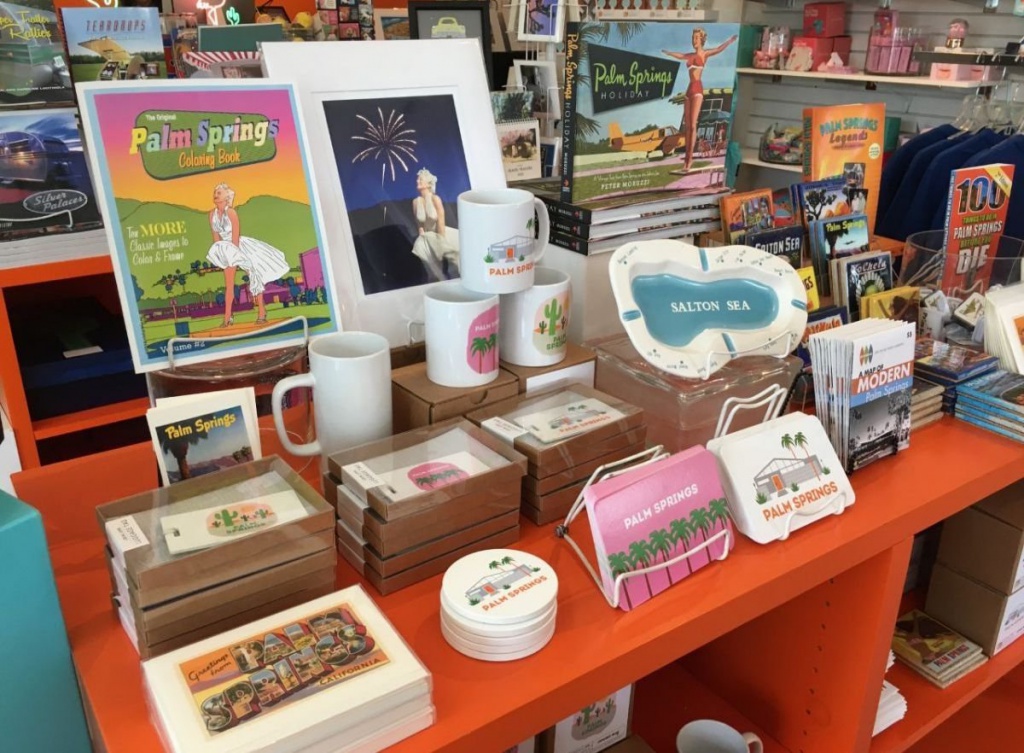 Just Fabulous is a popular gift boutique and bookstore that celebrates the "just fabulous" way of life. You'll definitely want to check it out!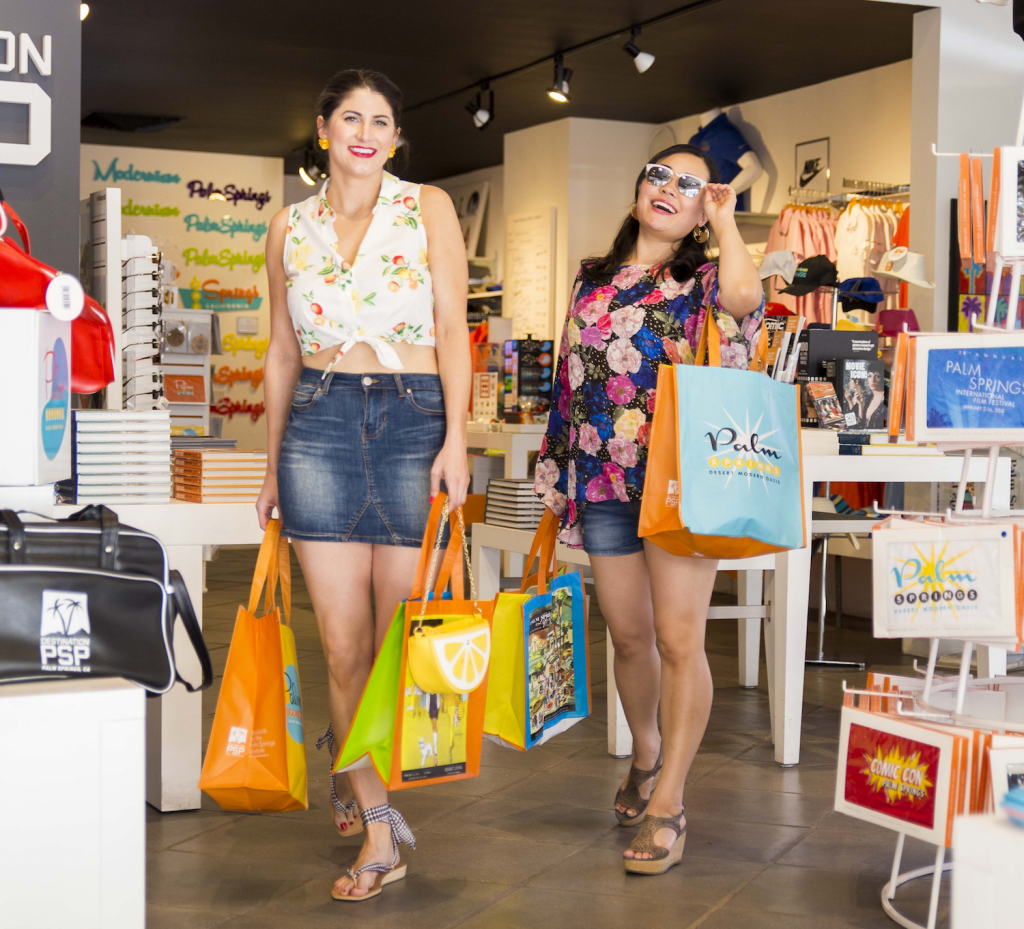 Travel blogger and repeat Acme guest Laura Lily and Kim of Cotton & Creme shopping at Destination PSP

We love Destination PSP! They have all sorts of cool and unique Palm Springs merchandise. Be sure to check out their custom greeting cards!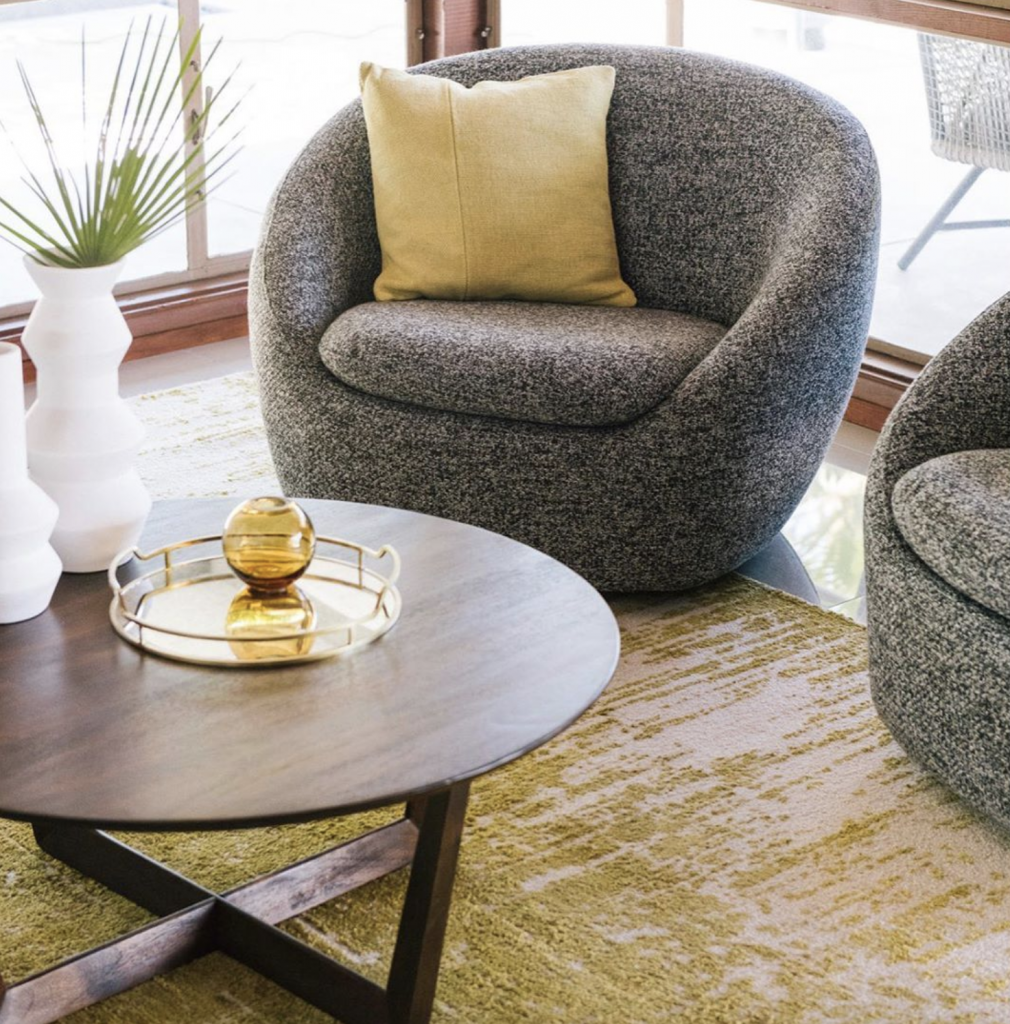 West Elm is always a good place to go. We just love their product!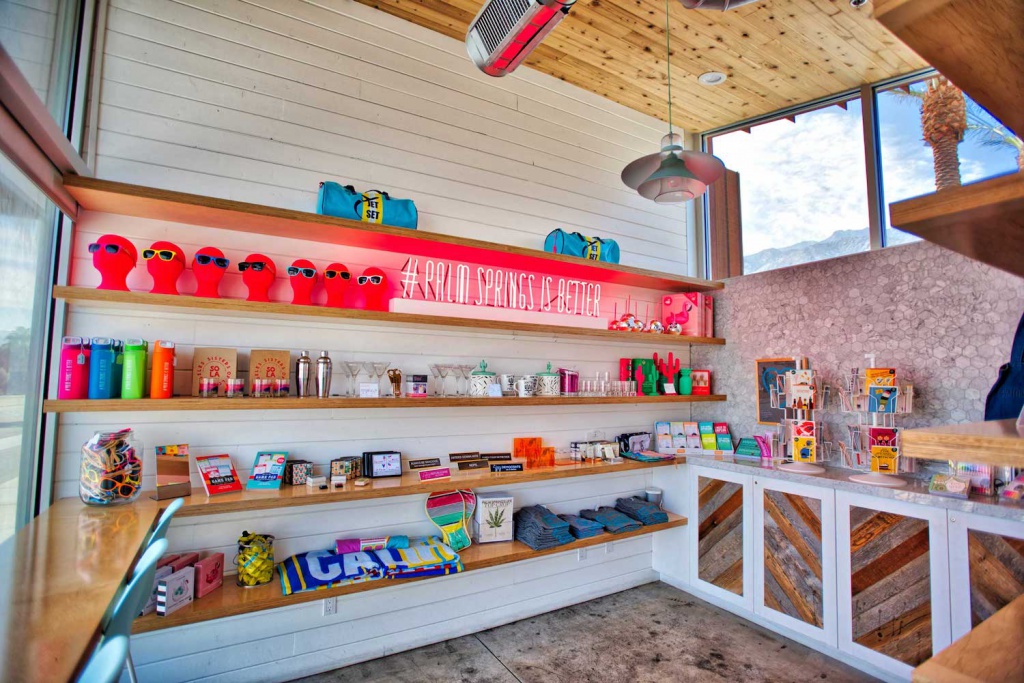 What's a day of shopping without a stop at Ice Cream & Shoppe? Enjoy some delicious, gourmet ice cream and check out their gift shop – it has all sorts of cool gifts and souvenirs!
ABOUT THE WRITER: Modern Mary is a traveling gadabout who adores everything Palm Springs – from the architecture and design to the art, fashion and lifestyle. A social butterfly in the most modern sense – Mary enjoys swanky cocktail parties, gallery openings, music festivals, shopping and anything pink or yellow. She is a frequent contributor to the Acme Blog – keeping our readers up to speed on who is staying at our fab fab vacation rental homes and what's going on in Greater Palm Springs and the surrounding desert cities of the Coachella Valley. Modern Mary loves big floppy hats, Jackie O sunglasses and prefers sensible shoes over back-breaking high heels.
ABOUT ACME HOUSE COMPANY: Acme manages Luxury Vacation Rental Homes & Condos in Greater Palm Springs and the surrounding desert cities, catering to those looking to travel to the world-renowned destination for the season, week-long stays and extended weekends. Fabulous pool homes for when you and your peeps want some together time. Visit Acme's Website to explore more Palm Springs Vacation Rental Homes.
Read the Condé Nast Traveler article that included Acme House Company on their list of Top 10 Vacation Rental Managers to Trust Worldwide. Palm Springs Life Magazine's Reader Survey named Acme House Company the Best of the Best in Vacation Home Rentals. We manage our Palm Springs Vacation Home Rentals like 5-Star Resorts. Just like home but way better.