PALM SPRINGS, CA – The Vacation Rental Managers Association (VRMA) gave kudos to the Management and Staff at Acme House Company for their role in defeating the Referendum to ban Short Term Vacation Rentals in the City of Palm Springs.
Thanks in part to the team at Acme House Company, Palm Springs voters resoundingly rejected a measure that would have banned vacation rentals of 28 days or less in the city's residential neighborhoods.

Above L-R: Acme House Company Executive Management Team Marvin Melchor, Iveth Serrato, Juan Loera, Mike Flannery, Debra Comer, Ken Hudnall, Jamie Silva
Writer Greg Holcomb cited the Acme team's contributions when chronicling the win  – a defeat of the Ballot Initiative known as Measure C – by a 70% margin.  His article in The Advocate, the official magazine of the VRMA, highlighted Acme's contribution of office space and equipment, internet service, and conference rooms.  The Acme Staff of 24 employees all volunteered their time by installing yard signs,  participating in phone banks and attending rallies.

VRMA Member Mike Flannery, president of Acme House Company, says he is proud of his team for the way they welcomed the staff of the anti-Measure C group, We Love Palm Springs, into Acme headquarters.  Our staff shared their offices and cubicles with the volunteers from We Love Palm Springs. Everyone just doubled up. Space was tight but there was great energy in the air. It was a magical yet stressful few months leading up to election day on Tuesday, June 5, 2018.
According to Mr. Flannery, working with Bruce Hoban, Co-Chair of We Love Palm Springs was both inspirational and educational. "We all learned a lot from Bruce," said Flannery. "He took the lead and kept everyone focused on the goal."
"This win means we keep a thriving economy and it means that we can continue to refine the short-term rental ordinance to keep our neighborhoods quiet and ensure that homeowners rent responsibility," Hoban added.
Flannery underscored that his company has long been focused on providing 5-Star Guest Experiences to respectul visitors who understand what it means to be a good neighbor.  Acme currently manages more than 100 privately-owned properties in the Coachella Valley and the surrounding desert cities.  Since the vote on June 5, the company has added an additional 19 properties to their portfolio. Most have been transfers from other management companies. There are another 14 homes in the pipeline, mostly homes that are currently under remodel,  that will be joining the vacation rental community – and the Acme program – in the next few months.
People were waiting to see what happened with the vote before making changes to the management of their vacation rental.  Now that 70% of the voters clearly stated that Short Term Vacation Rentals are here to stay for the foreseeable future – most property owners are ready to make plans for a better more profitable future by upgrading their Vacation Rental Management.
Read The Full Article Below.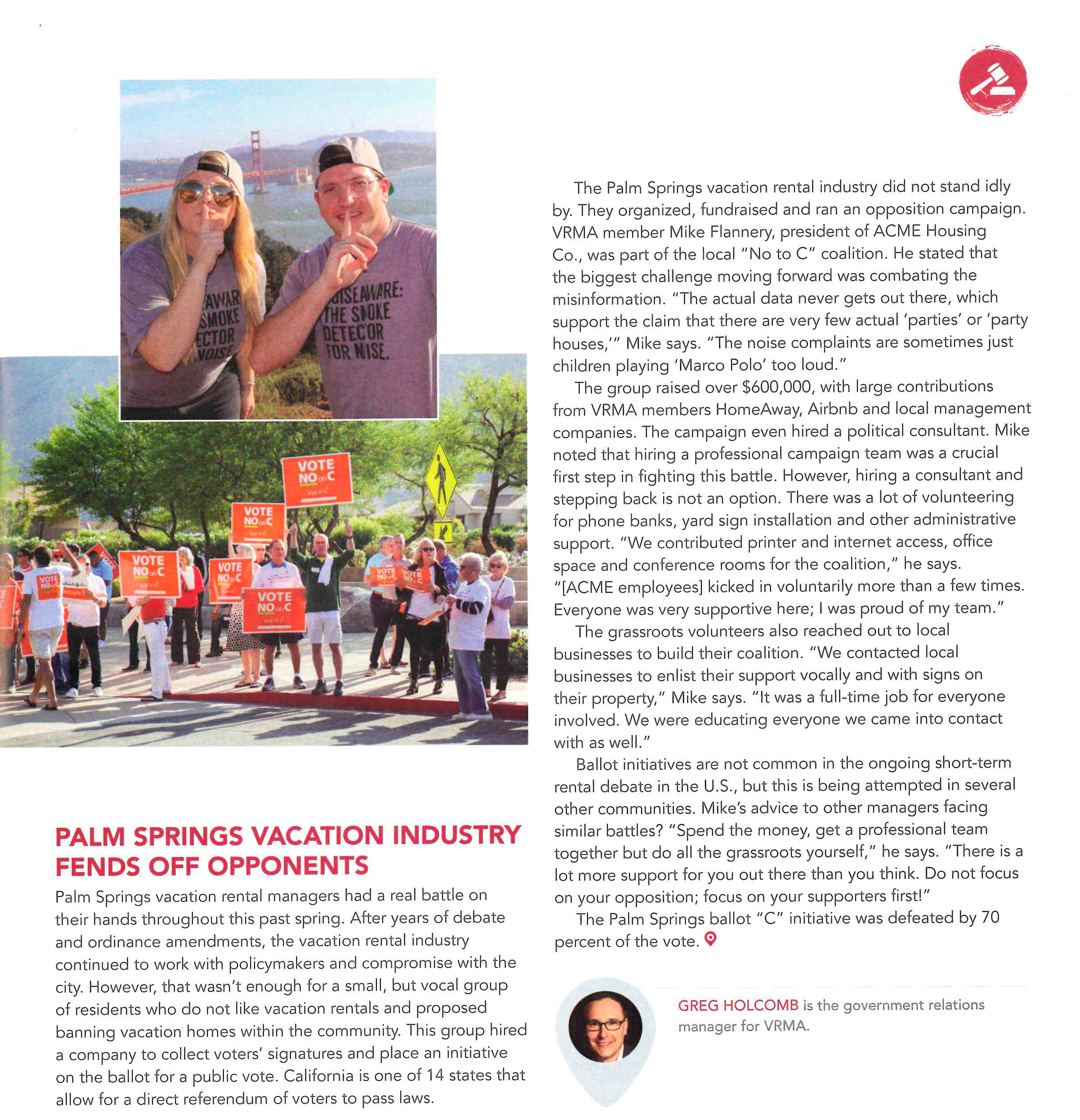 ABOUT ACME HOUSE COMPANY:  Acme manages Luxury Vacation Rental Homes & Condos in Greater Palm Springs and the surrounding desert cities, catering to those looking to travel to the world-renowned destination for the season, week-long stays and extended weekends. Fabulous pool homes for when you and your peeps want some together time. Visit Acme's Website to explore more Vacation Rental Homes.
Read the Condé Nast Traveler article that included Acme House Company on their list of Top 10 Vacation Rental Managers to Trust Worldwide.  Palm Springs Life Magazine's Reader Survey named Acme House Company the Best of the Best in Vacation Home Rentals. We manage our Palm Springs Vacation Home Rentals like 5-Star Resorts. Just like home —- but way better.