Sunshine. Fabulous Pool Homes. Great shopping. Delicious food. With all of the things it has to offer, it's no surprise that Palm Springs is such a fabulous vacation destination – and a favorite for yoga guru and celebrity trainer, Elise Joan!
Elise is a yoga influencer for LIVESTRONG, Co-Creator of Beachbody's best-selling inaugural yoga program, a TV Wellness Host, and one of our favorite Acme guests. Her trips to Palm Springs always include a combination of lounging poolside in a stunning Acme Vacation Home and going out to explore the best of Palm Springs – and she always comes back for more!
We know it can be hard to step away from the pool at your Acme House Company Vacation Rental, but trust us, some things are worth making time for. To help you plan your next getaway, we've compiled a list of some of our favorite shops, restaurants and activities.
Where To Eat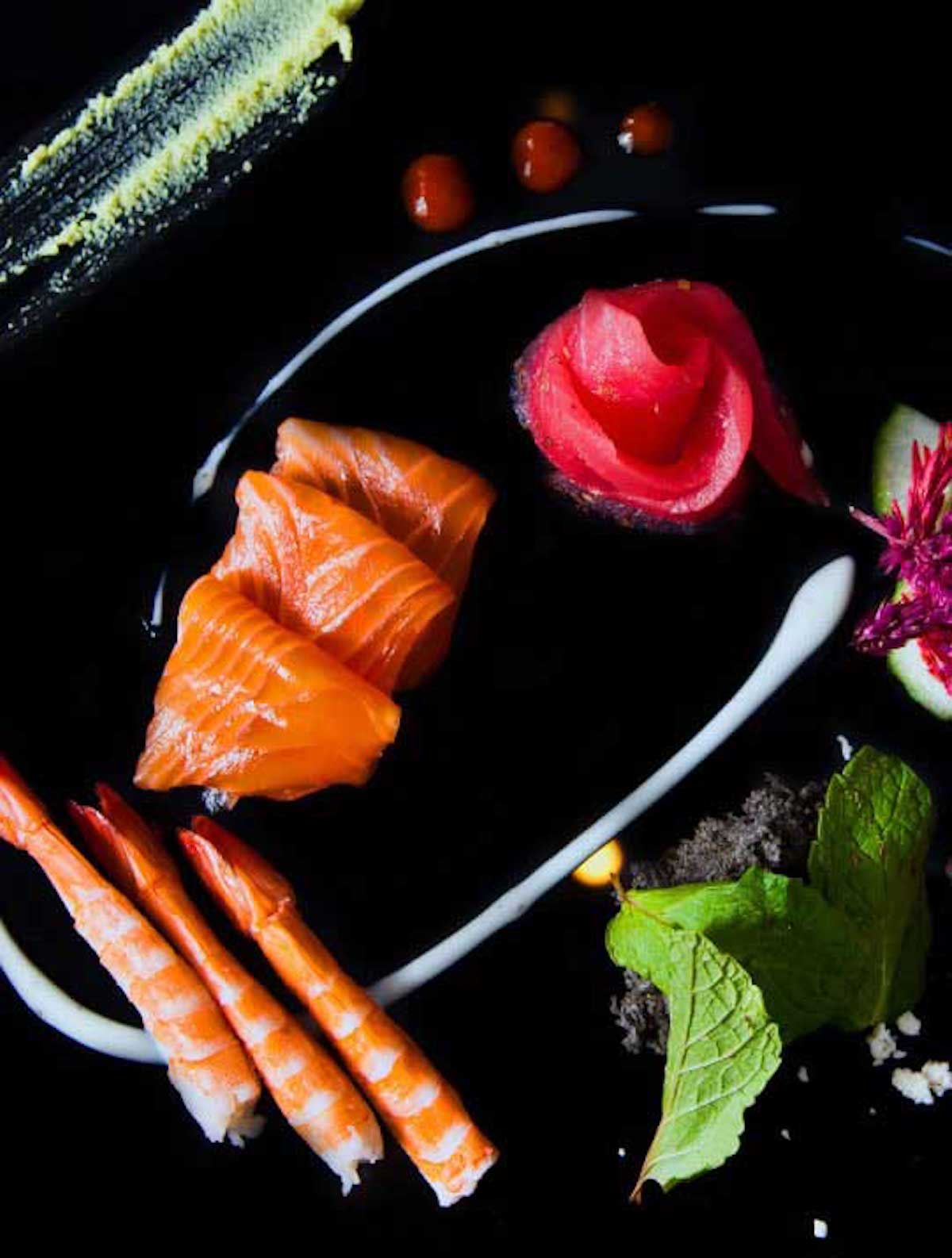 Photo: Venue Sushi & Sake Lounge

This is not your average sushi restaurant. Owner and Chef Engin Onural – acclaimed and award-winning chef – is the valley's most celebrated sushi master and a Sake Sommelier. Everything on the menu is a delicious work of art. Every time Chef Engin goes to Europe he comes back with new ideas and creations that he works into the menu, and we've loved every one of them! In fact, that's happening right now. Be sure to visit this cool hot spot located in Palm Desert while you're in town to try Chef Engin's latest creations.

Open daily, 5pm – 9pm.

While you're in Palm Springs you can also try Chef Engin's second restaurant, Sandfish Sushi and Whiskey Bar.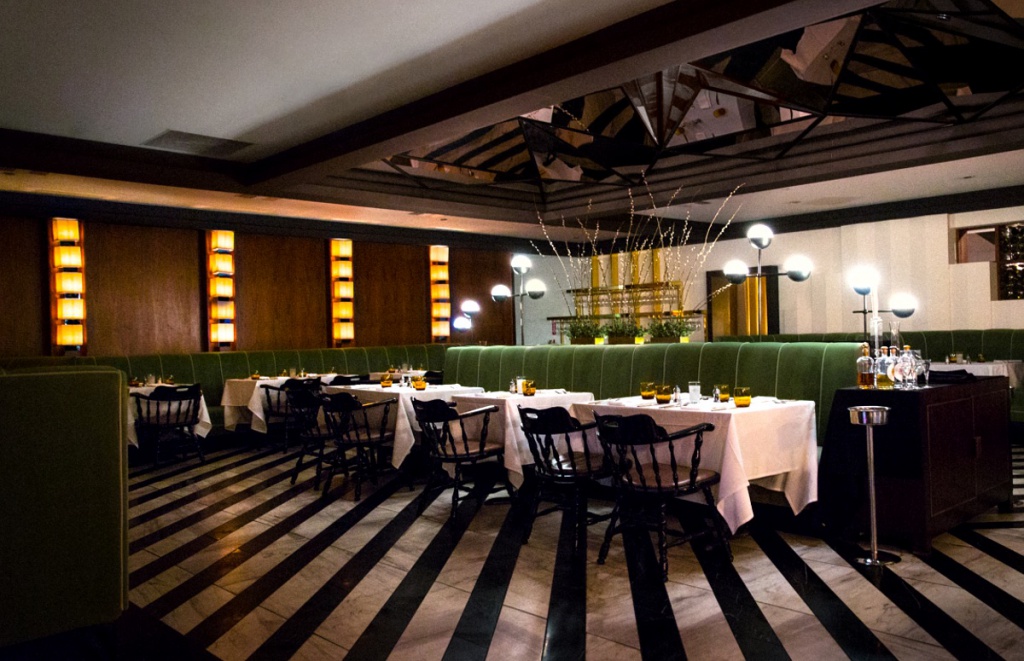 The trifecta of fabulous! Mr. Lyons is one of F10's ventures in the Greater Palm Springs area, and as we've seen, everything that comes out of F10 Creatives is beyond delicious and fabulous. The restaurant's gorgeous dining salon covered in black and white marble, wood, and brass evokes the old Hollywood glamour that Palm Springs is famous for. Tucked in the back is Seymour's, a speakeasy-style nook serving classic cocktails with a twist. While there is no secret knock, password, or hidden entrance, you do have to pull open a velvet curtain to find it!

Open daily for dinner, except for Mondays and Tuesdays.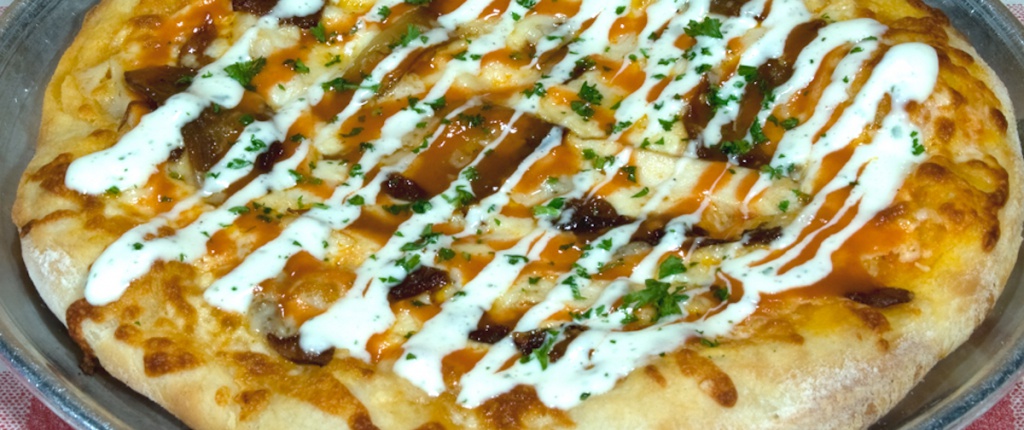 Named one of the Top 100 Pizza Places in the United States by Trip Advisor, and rightly so. It's casual but delicious. Whether you're looking to grab pizza by the slice, or to sit down and make your own pie, this locals' favorite located in the heart of Downtown Palm Springs does not disappoint. All of their pies are made with only the freshest ingredients. We all know that you can never go wrong with pizza, but Bill's Pizza takes it to the next level!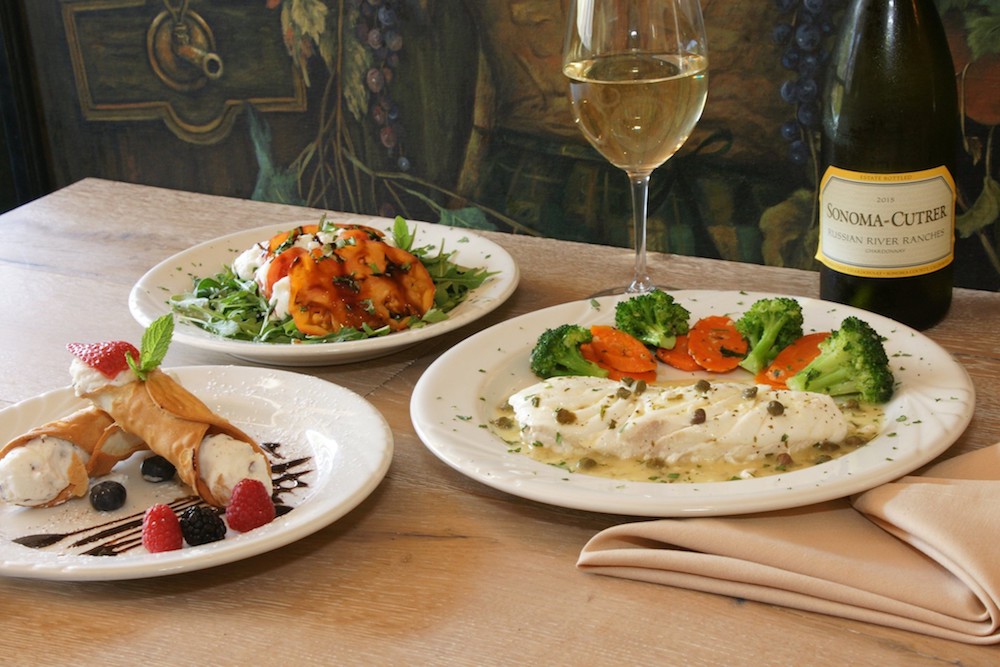 Photo: Johnny Costa's Ristorante

Classic Italian Cuisine from the family that has been cooking delicious pastas, steaks and fish in the desert since 1976. Founding Chef / Owner Johnny Costa became good friends with Frank Sinatra in the 1960s and the years that followed, while cooking at various local haunts where the crooner liked to dine. He even worked as Sinatra's personal chef at his desert home. We recommend that you try the Risotto di Mari and the Housemade Cannoli for dessert!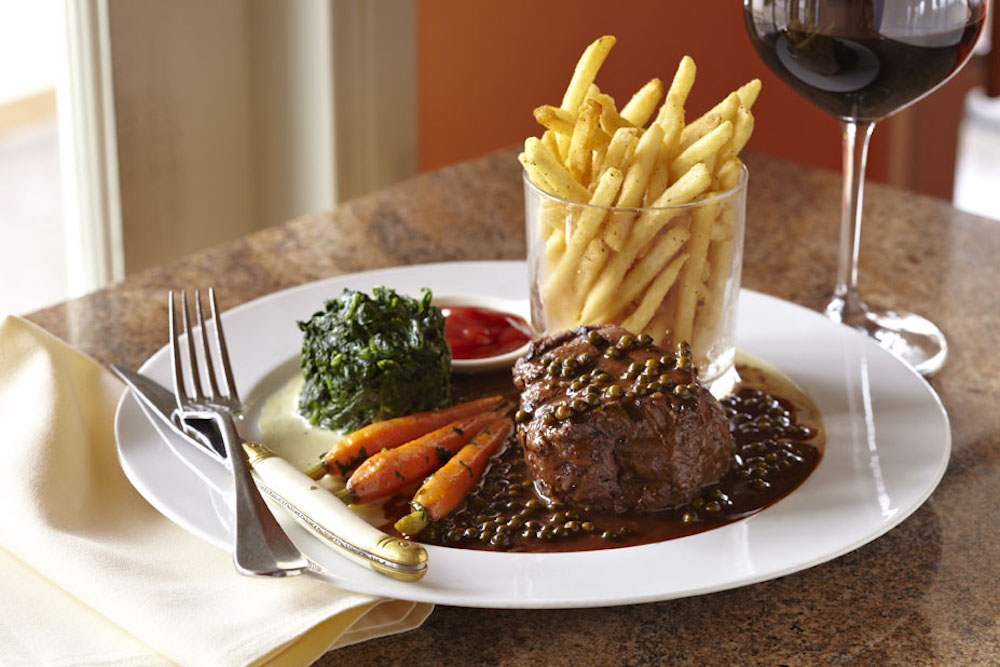 Consistently fabulous dining experience. Upscale yet casual European cuisine – and a fantastic wine list. Top Chef Johannes Bacher has received hundreds of awards from local, national and international media including Bon Appètit, Restaurant Writer's Association, Wine Spectator, Elle Magazine, The New York Times, Zagat, Open Table and Palm Springs Life.

Trio serves an eclectic selection of dishes that combine traditional Midwest comfort food with a contemporary California edge. There's both indoor and outdoor seating—and while this is a great dinner option, you might also want to stop by for lunch and take advantage of the generous three-course meals that are available daily from 11:00 am to 6:00 pm for only $19.99. Or stop by for a drink and enjoy the large selection of bar bites.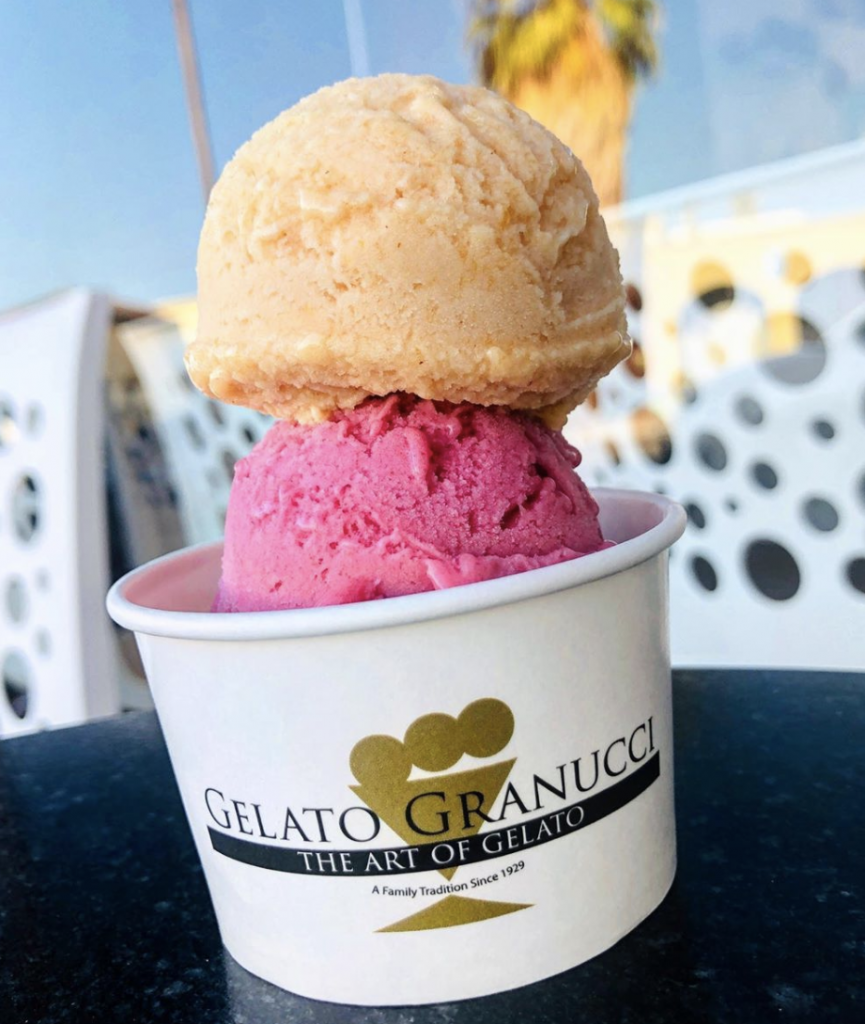 Delicious artisanal gelato handmade onsite in downtown Palm Springs. If you're looking for something sweet and tasty, this is the place to go. They also have gelato cannoli and gelato sandwiches! Stop by and treat yourself to a true Italian gelato experience.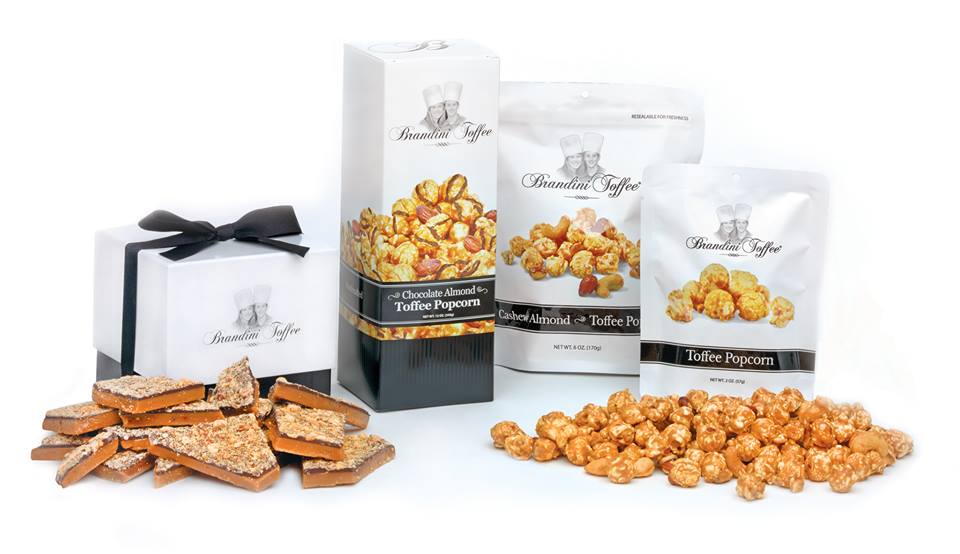 A must for all chocolate lovers and toffee aficionados! Stop by for a taste and see why Brandini Toffee has been featured on Oprah Winfrey's O List, The Martha Stewart Show, and The Food Network.
Where To Shop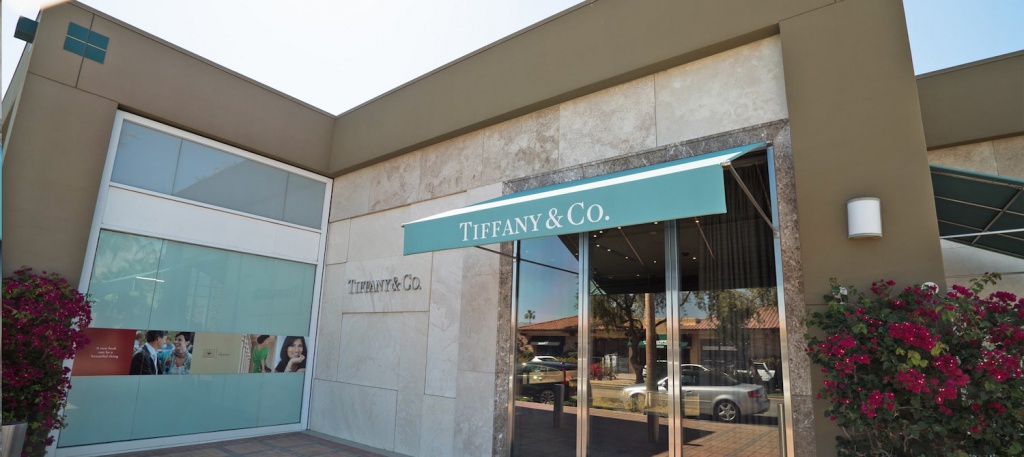 Photo: The Gardens on El Paseo

We know that it's Palm Springs and all you want to do is chill and relax by the pool, but Tiffany & Co. on El Paseo is definitely worth the trip! From the moment you walk in it's like walking into fabulous old school company. Make your visit to Tiffany & Co. even better by spending the day walking around El Paseo and checking out all of the other luxury shops you can find there.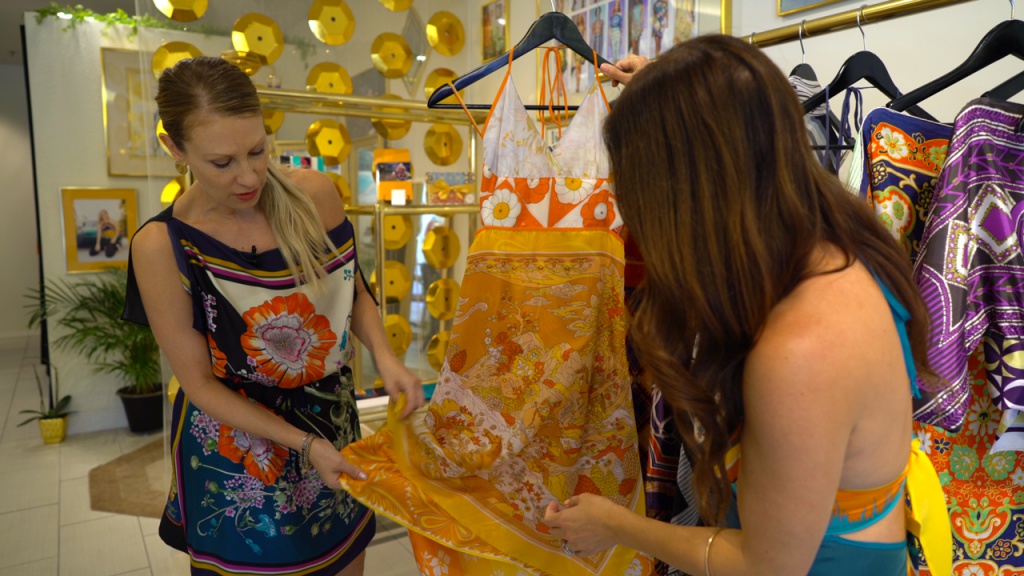 Photo: David Ian Hughes & Summerland Creatives Courtesy of Greater Palm Springs CVB


We just love her fashion, particularly for the summer!  Her brand inspires nothing but elegance and ease. Our favorites include her beautiful silk scarves and dresses, but you'll find plenty of other super chic things for everyone. You can check out her shop in Palm Springs at The Shops at 1345.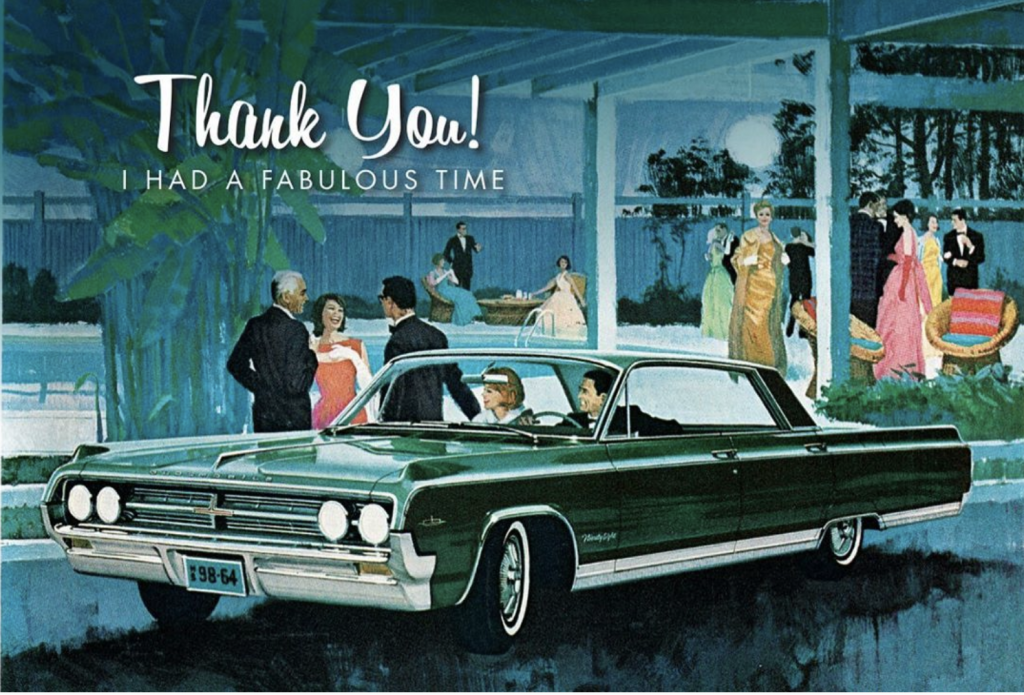 A trip to Palm Springs isn't complete without a stop at Destination PSP. All of their items are designed for the Palm Springs lifestyle, and they always have something new and fabulous! Right now they have a new collection of stunning, custom mid-century modern greeting cards. Be sure to pick a few of those up on your next trip, everyone will love them!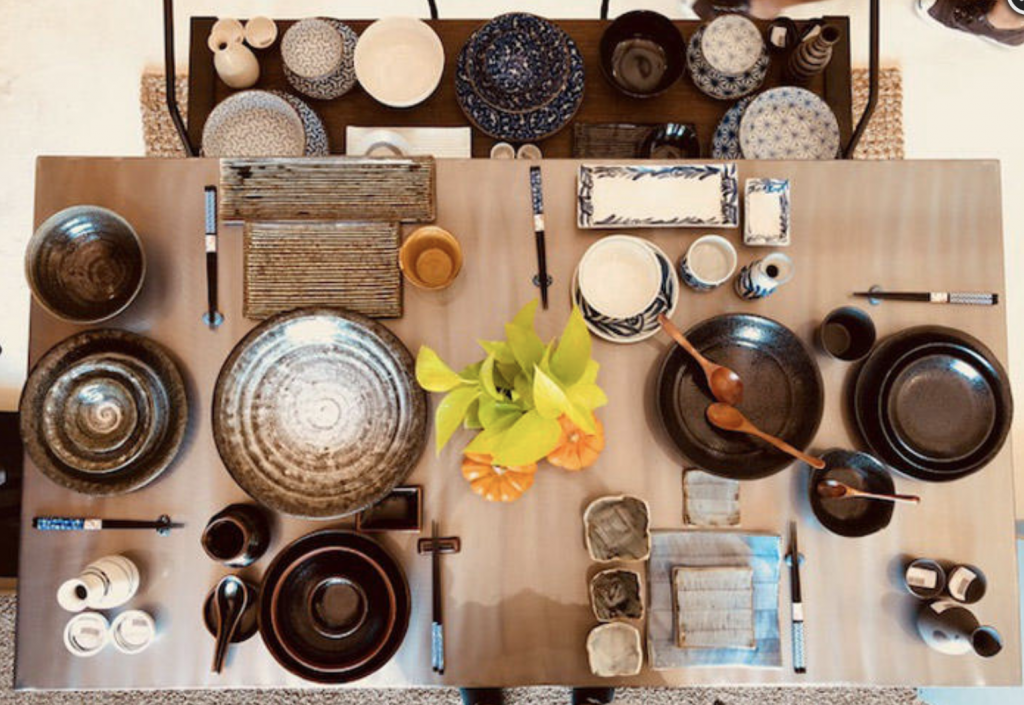 You have to check out Wabi Sabi Japan Living's cool selection of Japanese home goods. They have all sorts of cool and unique products! Owners Darrell Baum and Osamu Sagara travel to Japan every year to personally curate their product selection, and they always come back with the most fabulous merchandise. You'll find everything from tableware and cookware to art and jewelry!
Explore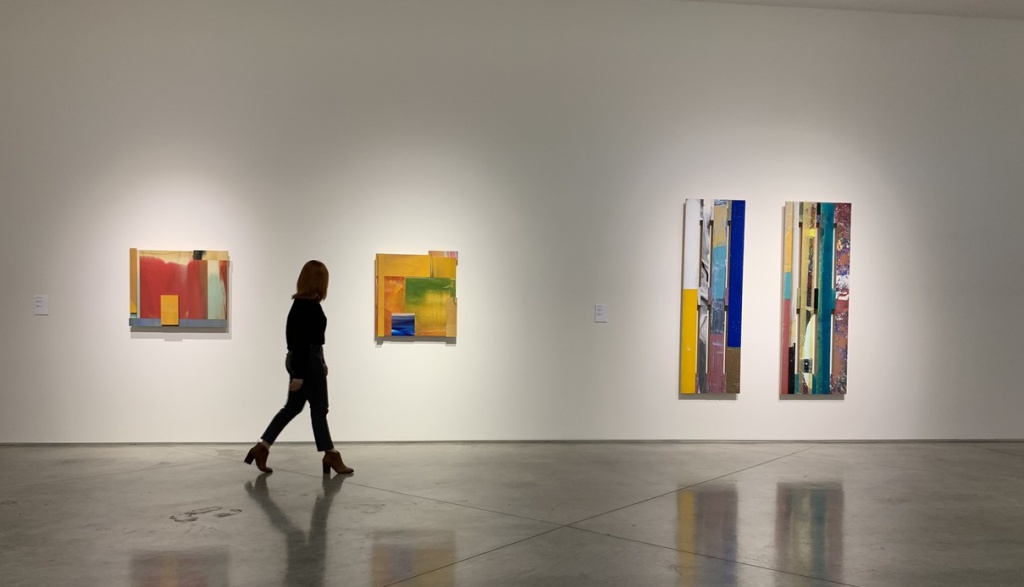 Photo: Greater Palm Springs CVB

A favorite stop for art aficionados from around the world. Rivaling some of the country's most well-known museums, the Palm Springs Art Museum boasts works from Chagall, Picasso, Warhol, and Lichtenstein alongside two outdoor sculpture gardens and a café. Its exhibitions are always changing, so even if you've been to it before, there's always something new and exciting. The museum also has branches in Palm Desert and an Architecture & Design Center in Downtown Palm Springs.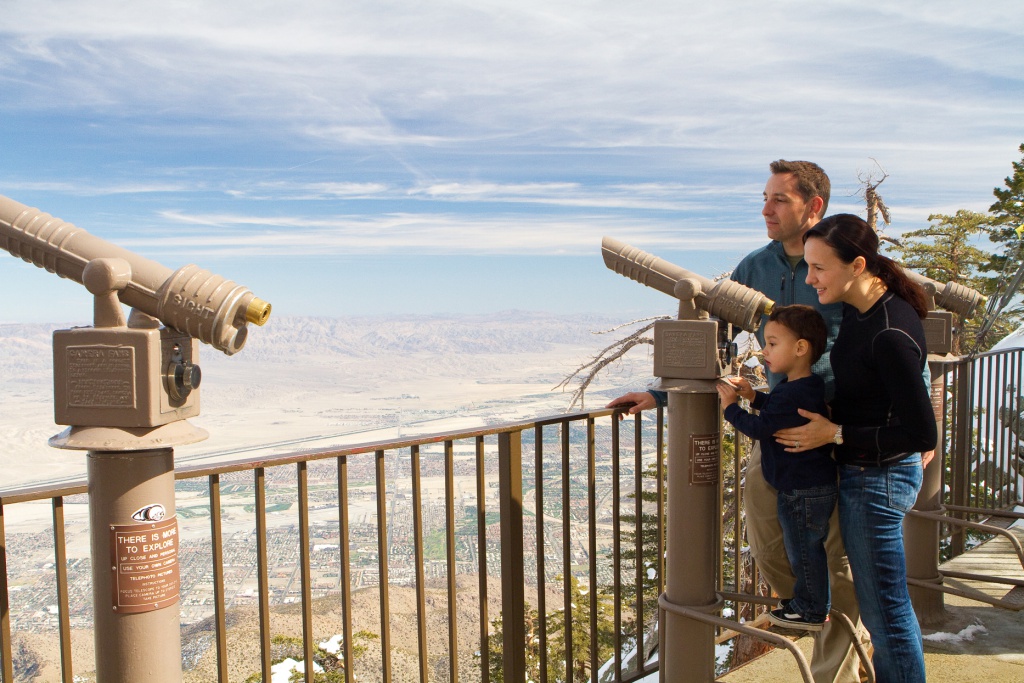 Photo: Scott Baxter courtesy of Greater Palm Springs CVB

The world's largest rotating aerial tramway in the world offering picturesque views of the valley. The trams take you to the top of Mt. San Jacinto State Park (an elevation of 8,516 ft) where you'll be able to take your time and soak up the breathtaking views from the observation decks. Also on-site are two restaurants, a natural history museum, two documentary theaters, and over 50 miles of hiking trails – we love making a day trip out of this! It's always about 20 degrees cooler up there, so if you're traveling during the summer it's also the perfect way to escape the heat for a while.
Photo: Palm Springs Historical Society

Palm Springs Historical Society
We really appreciate the The Palm Springs Historical Society and everything it does to chronicle the timeline of our city through the preservation of photographs, memorabilia, and periodicals. They offer 10 different walking tours focusing on Palm Springs' historic neighborhoods, distinguished by a combination of the celebrities and local pioneers who called them home, and the architects and builders who shaped their development. Check out the tours available here and join them for an entertaining stroll through Palm Springs.
All proceeds from the tours benefit The Palm Springs Historical Society.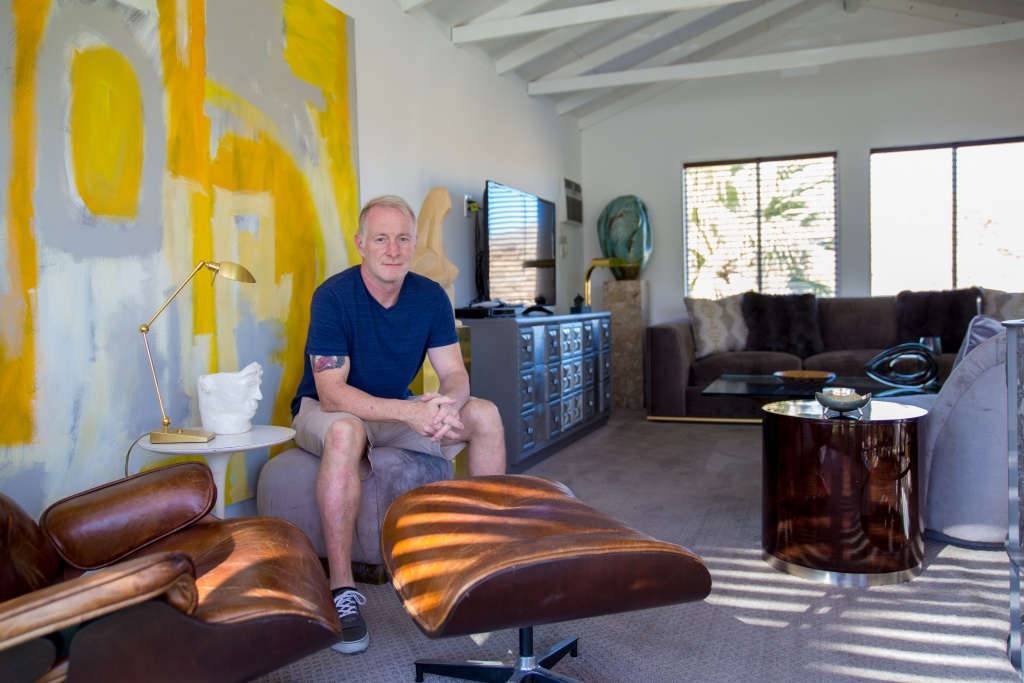 We just love Shawn Savage's collection! Besides being one of Palm Springs' most important resident artists, he is also a fabulous collector of original mid mod pieces. It's no wonder he has become one of Southern California's most sought-after artists and the go-to guy for top interior designers. His art is in dozens of our homes and we were lucky enough to have him do the mural in the West Elm House 2018! Next time you're in town check out his cool and hip gallery located in The Shops at 1345.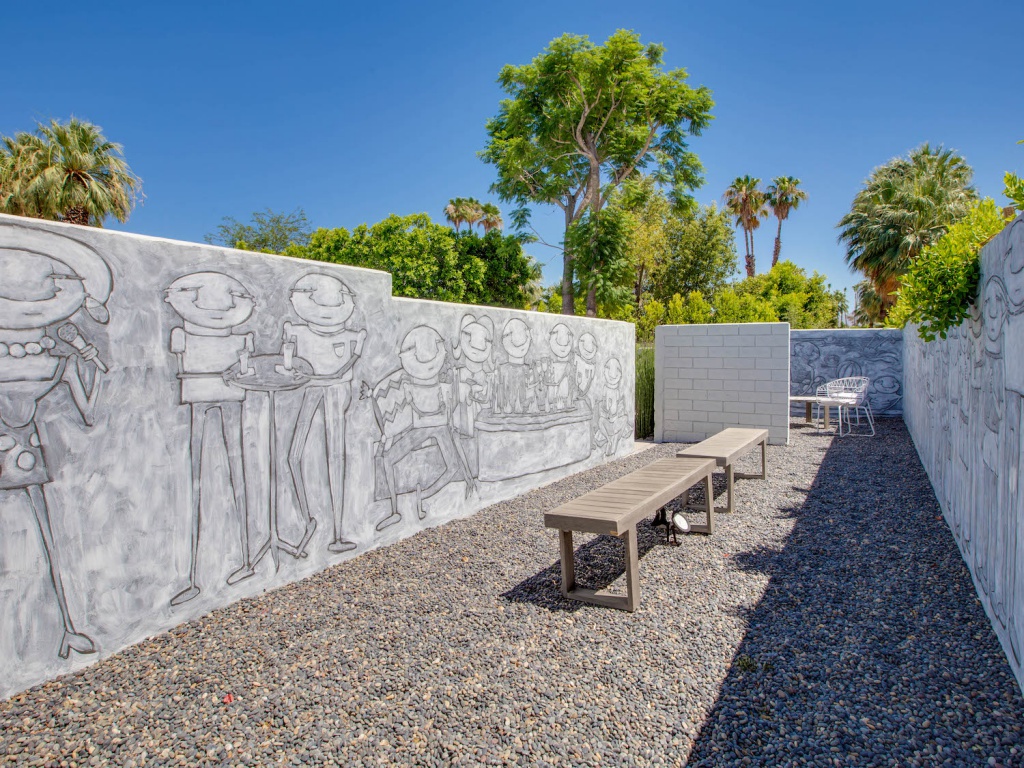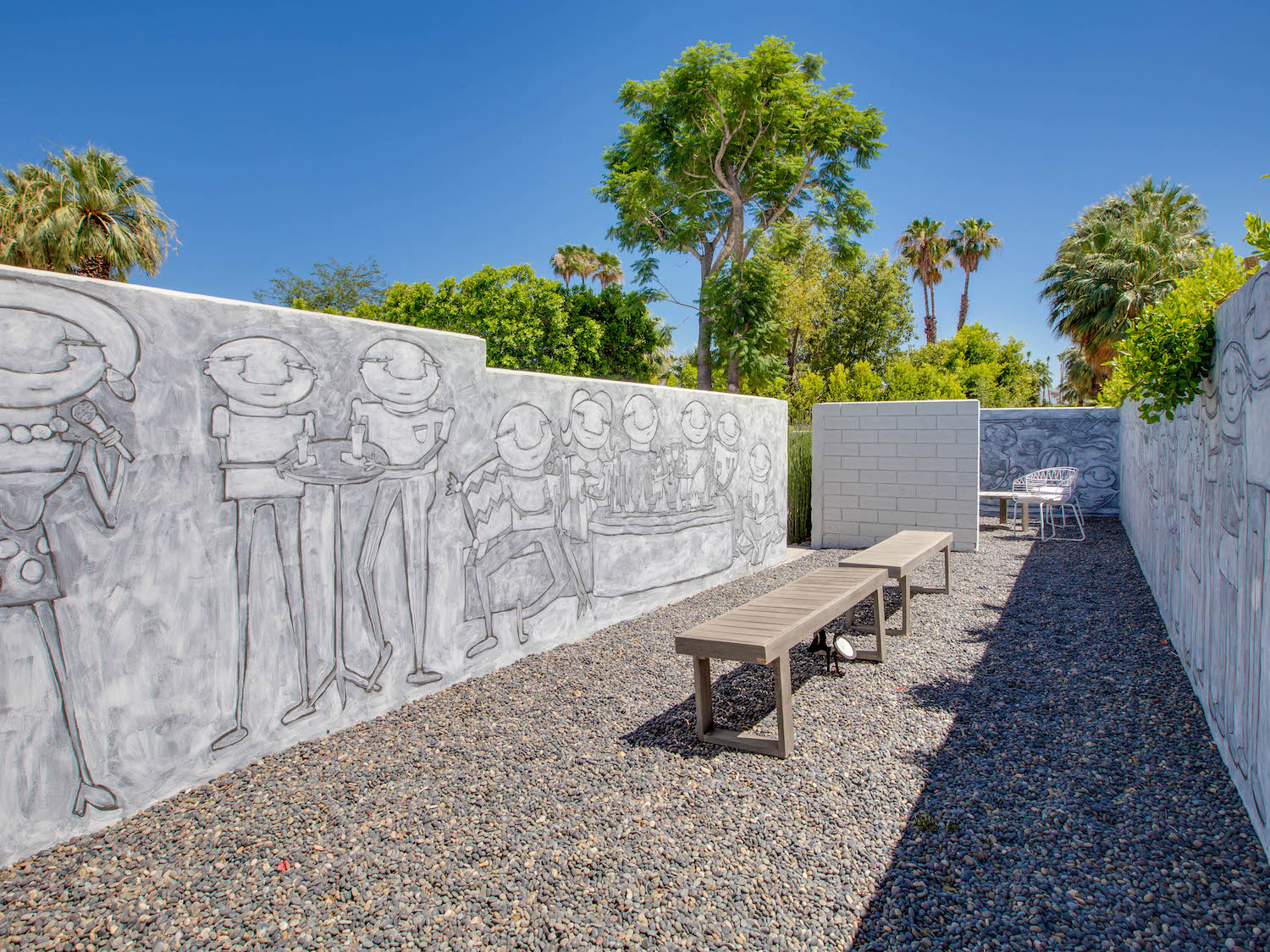 Mural by Shawn Savage at the West Elm Pool House 2018
Check out more pictures
ABOUT THE WRITER: Modern Mary is a traveling gadabout who adores everything Palm Springs – from the architecture and design to the art, fashion and lifestyle. A social butterfly in the most modern sense – Mary enjoys swanky cocktail parties, gallery openings, music festivals, shopping and anything pink or yellow. She is a frequent contributor to the Acme Blog – keeping our readers up to speed on who is staying at our fab fab vacation rental homes and what's going on in Greater Palm Springs and the surrounding desert cities of the Coachella Valley. Modern Mary loves big floppy hats, Jackie O sunglasses and prefers sensible shoes over back-breaking high heels.
ABOUT ACME HOUSE COMPANY: Acme manages Luxury Vacation Rental Homes & Condos in Greater Palm Springs and the surrounding desert cities, catering to those looking to travel to the world-renowned destination for the season, week-long stays and extended weekends. Fabulous pool homes for when you and your peeps want some together time. Visit Acme's Website to explore more Palm Springs Vacation Rental Homes.
Read the Condé Nast Traveler article that included Acme House Company on their list of Top 10 Vacation Rental Managers to Trust Worldwide. Palm Springs Life Magazine's Reader Survey named Acme House Company the Best of the Best in Vacation Home Rentals. We manage our Palm Springs Vacation Home Rentals like 5-Star Resorts. Just like home but way better.