Iconic. Classic. These Homes are Absolutely Stunning!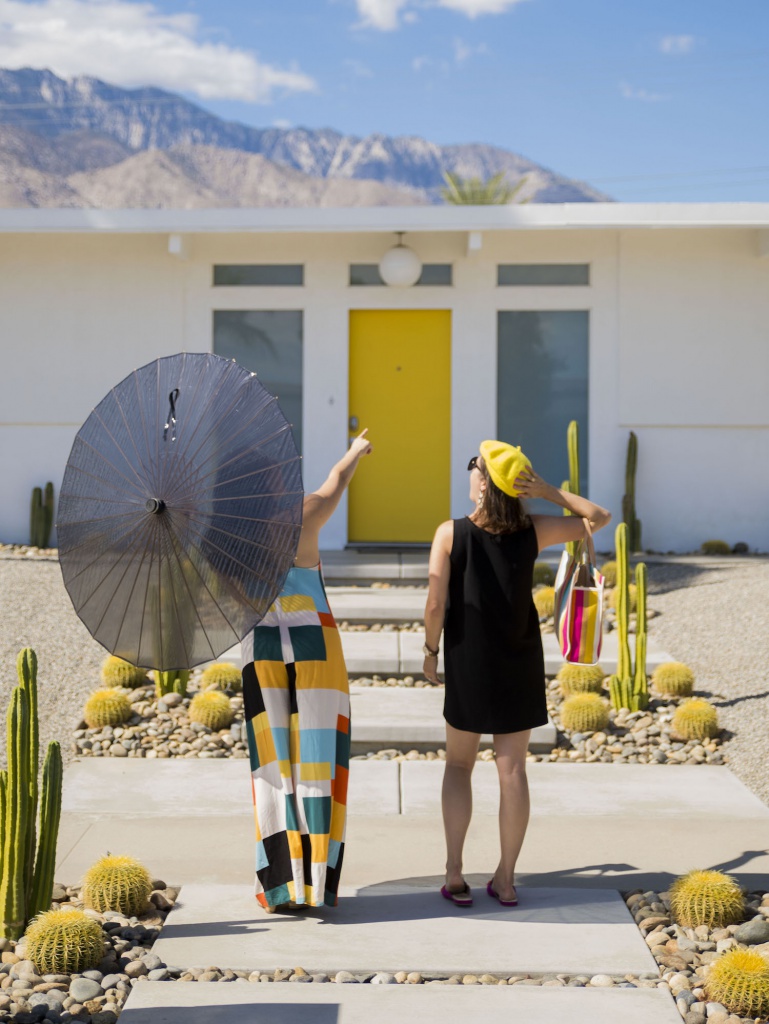 Kim Murashima (@cottonandcreme) and Liz Martin (@Charleston Weekender) preview Modernism Week. Photo: Nathan Cox Studios
PALM SPRINGS, CA – Palm Springs' annual 11-day festival celebrating midcentury modern design, architecture and culture – Modernism Week – is just around the corner!
While the festival is made up of more than 350 events, at the heart of it all are the fabulous home and neighborhood tours. This year's Modernism Week will feature five of Acme's own fabulous Vacation Home Rentals!
See the homes and get tickets below.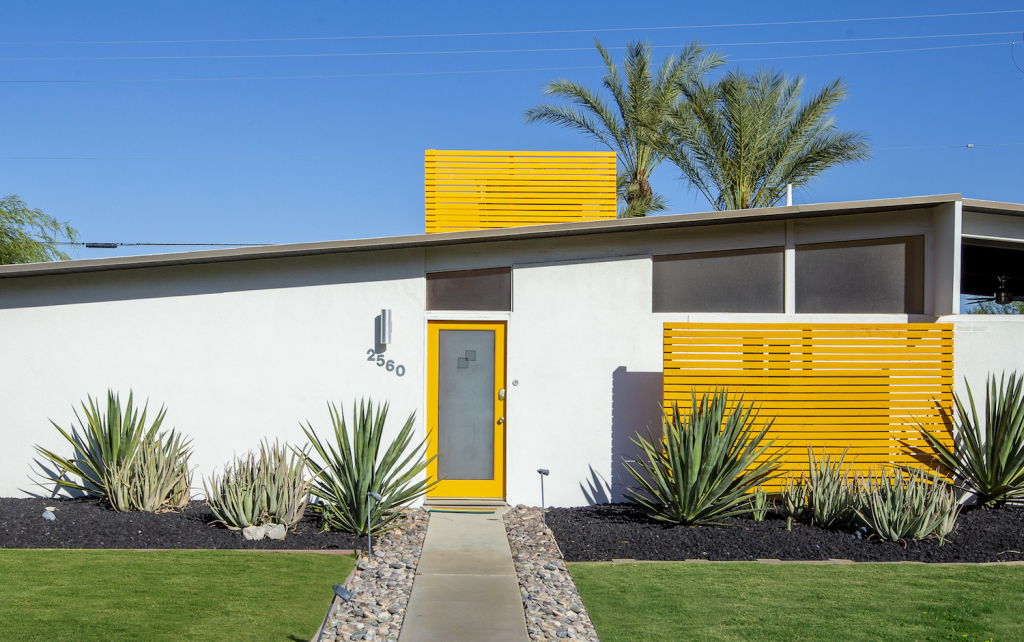 Photo: Billy's Astro Lounge, Nathan Cox Studios
Give Me Shelter – Rescued Alexanders Home Tour
Experience a desert legacy of homes affectionately referred to as "Alexanders". Proceeds from the tour will benefit the Palm Springs Animal Shelter.
This tour features Acme's Billy's Astro Lounge, an iconic 1959 pool home by William Krisel. This home is a mid mod glamp ground to soothe the soul.
Tour Date: February 14, 2020
Tickets: $65
Photo: The Den
Racquet Club Estates Home Tour
Showcasing one of the largest and most iconic neighborhoods in Palm Springs, where more than 500 homes create an oasis of architectural optimism. It's a marvel of midcentury design where small interior footprints are complemented by outdoor living spaces with swimming pools and mountain views.
This tour features Acme's The Den, a gorgeous and carefully restored midcentury pool home (circa 1959).
Tour Date: February 15, 2020
Tickets: $85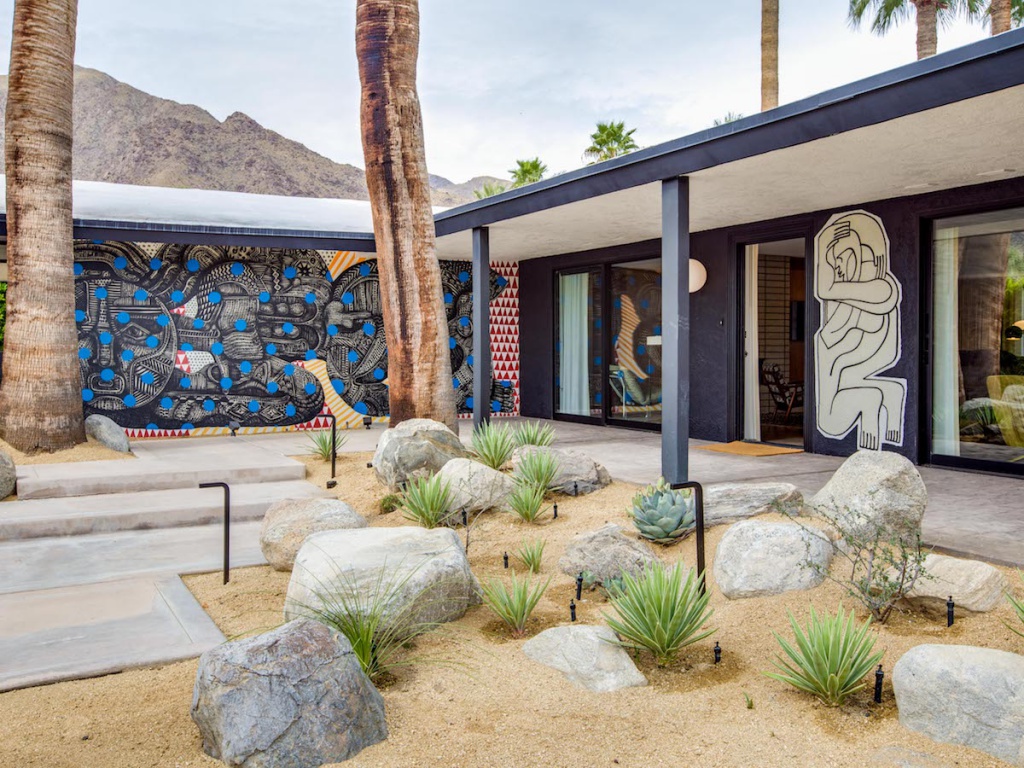 Photo: Mostero House, Nathan Cox Studios
Modern Garden Tour
Experience and embrace the modern aesthetic of drought tolerant and desert-friendly plants while touring exquisitely designed private modern gardens.
Featured on this tour is Acme's Mostero House, an architecturally significant midcentury modern home with gardens designed by William Kopelk.
Tour Date: February 19, 2020
Tickets: $75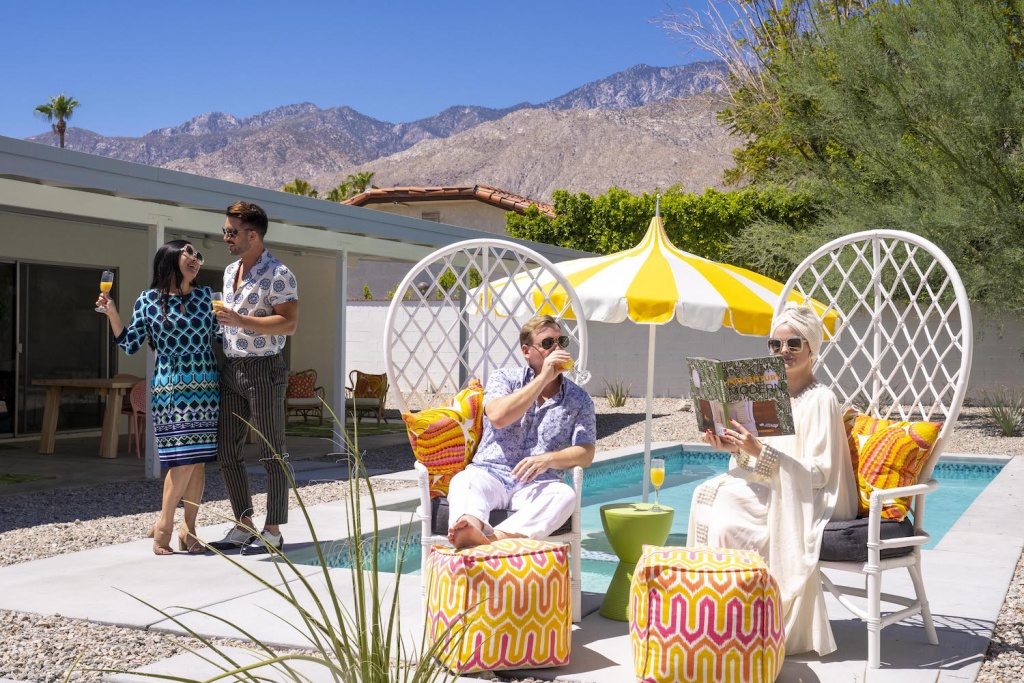 Style maker Teggy French with famed modernist – and designer of Belding Bliss – Christopher Kennedy, Daniel Musto, and Kim Murashima at Belding Bliss. Photo: Nathan Cox Studios
Sunrise Park Home Tour: Close to Everything, Far from Ordinary
Sunrise Park presents a mix of architectural styles that evolved over time, from Atomic Ranch to late 60s mod. Innovative and influential architects like Donald Wexler, William Krisel and Richard Harrison created this eclectic collection of homes between 1956 and 1967.
This tour features Acme's Canary Palms and Belding Bliss.
Photo: Belding Bliss, Nathan Cox Studios
Belding Bliss is a fabulous home where classic midcentury Architecture (circa 1967) meets hi-style designer aesthetic by famed modernist Christopher Kennedy.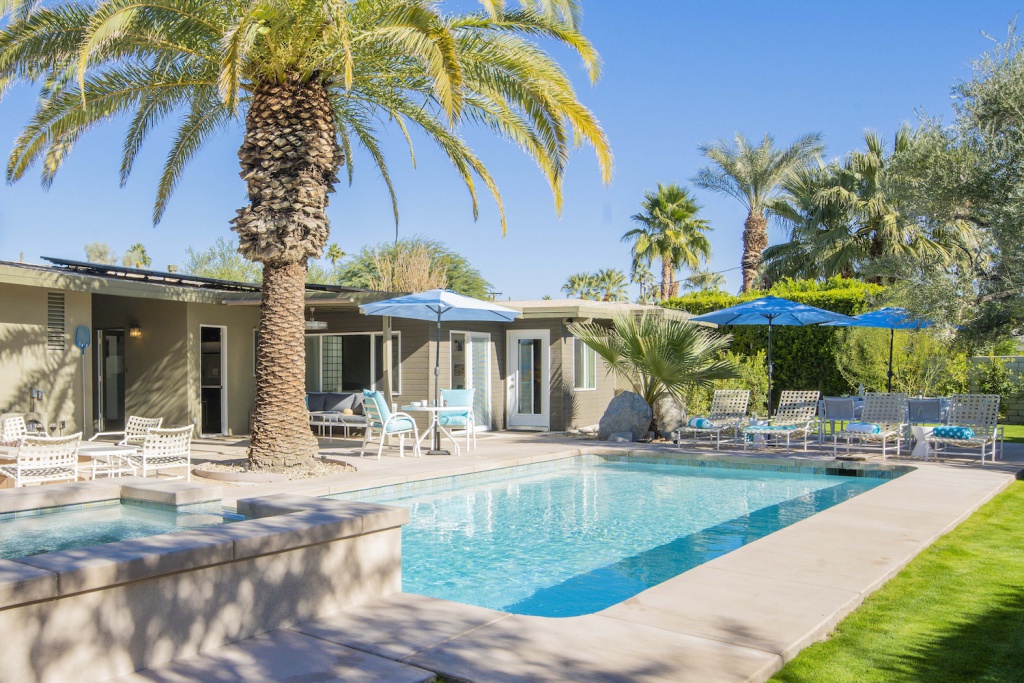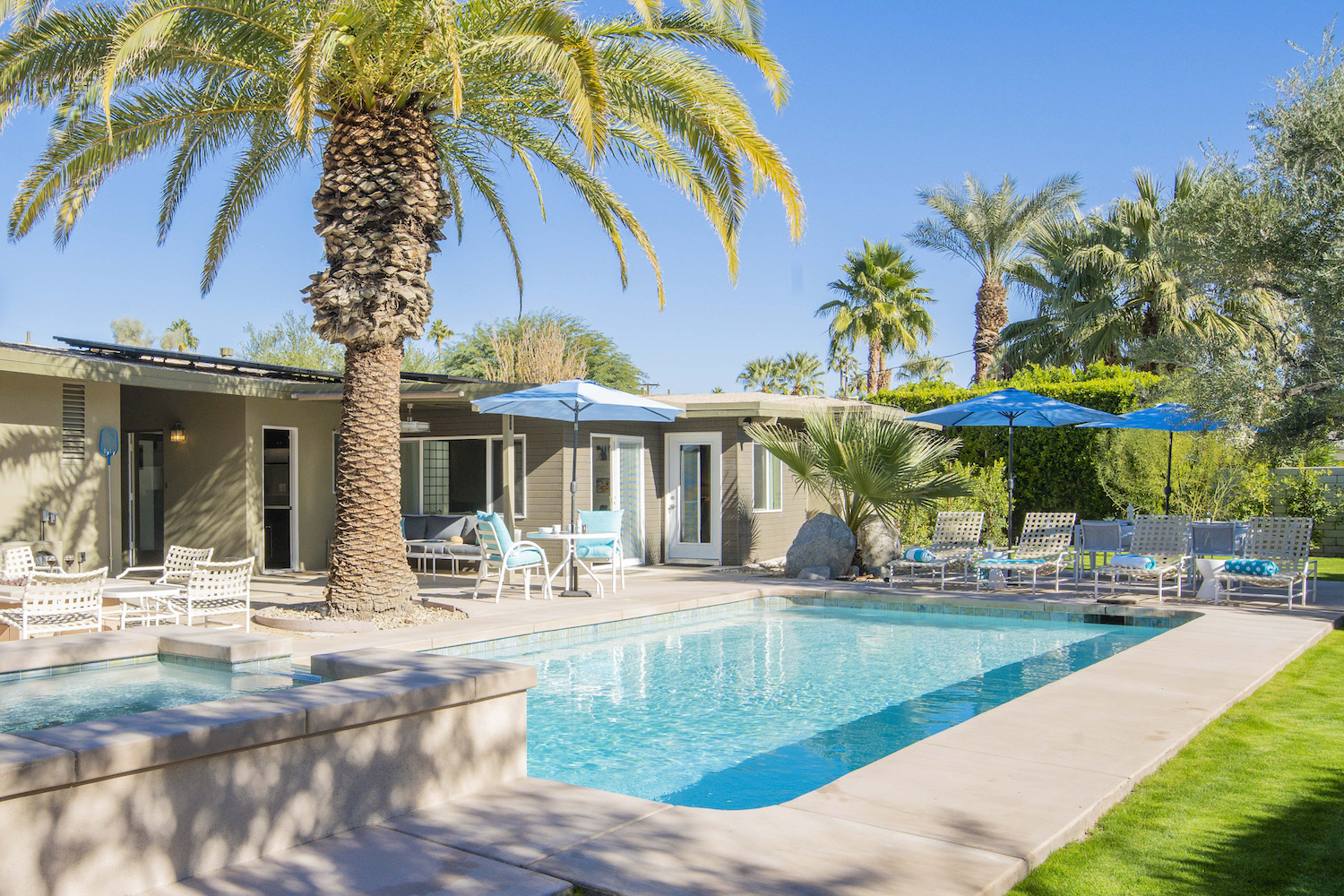 Photo: Canary Palms, Nathan Cox Studios
Canary Palms is an authentic midcentury pool home that looks like the set of your favorite 1950s TV Show.
Tour Date: February 18, 2020
Tickets: $60
Where to Stay
Be part of Modernism Week while staying at a luxury midcentury modern vacation rental!
Click here to see homes available to rent for Modernism Week.
ABOUT THE WRITER: Modern Mary is a traveling gadabout who adores everything Palm Springs – from the architecture and design to the art, fashion and lifestyle. A social butterfly in the most modern sense – Mary enjoys swanky cocktail parties, gallery openings, music festivals, shopping and anything pink or yellow. She is a frequent contributor to the Acme Blog – keeping our readers up to speed on who is staying at our fab fab vacation rental homes and what's going on in Greater Palm Springs and the surrounding desert cities of the Coachella Valley. Modern Mary loves big floppy hats, Jackie O sunglasses and prefers sensible shoes over back-breaking high heels.
ABOUT ACME HOUSE COMPANY: Acme manages Luxury Vacation Rental Homes & Condos in Greater Palm Springs and the surrounding desert cities, catering to those looking to travel to the world-renowned destination for the season, week-long stays and extended weekends. Fabulous pool homes for when you and your peeps want some together time. Visit Acme's Website to explore more Palm Springs Vacation Rental Homes.
Read the Condé Nast Traveler article that included Acme House Company on their list of Top 10 Vacation Rental Managers to Trust Worldwide. Palm Springs Life Magazine's Reader Survey named Acme House Company the Best of the Best in Vacation Home Rentals. We manage our Palm Springs Vacation Home Rentals like 5-Star Resorts. Just like home but way better.