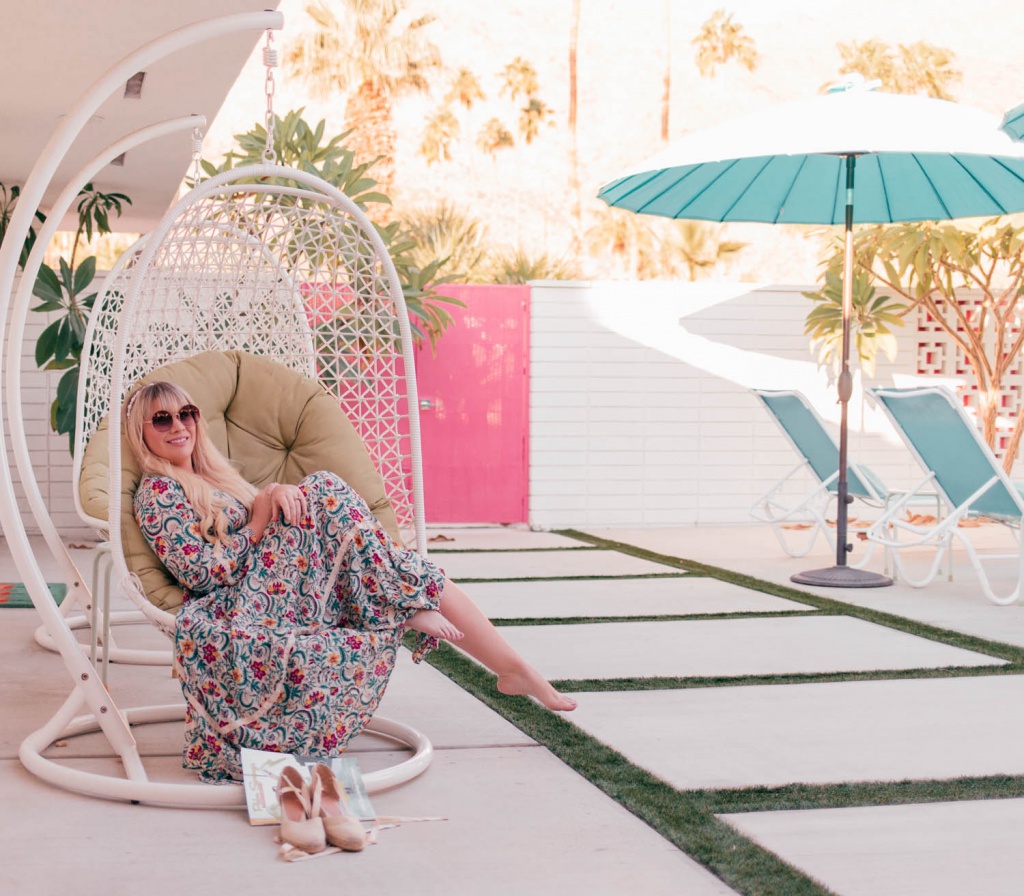 Photo courtesy of Lizzie in Lace.
PALM SPRINGS, CA – Travel, beauty and fashion blogger Elizabeth Hugen, aka Lizzie in Lace, recently traveled to Palm Springs for the first time. She stayed at Acme's Pretty in Pink – an absolutely gorgeous vacation home perfect for a fabulous, dress twirling kind of gal like Elizabeth!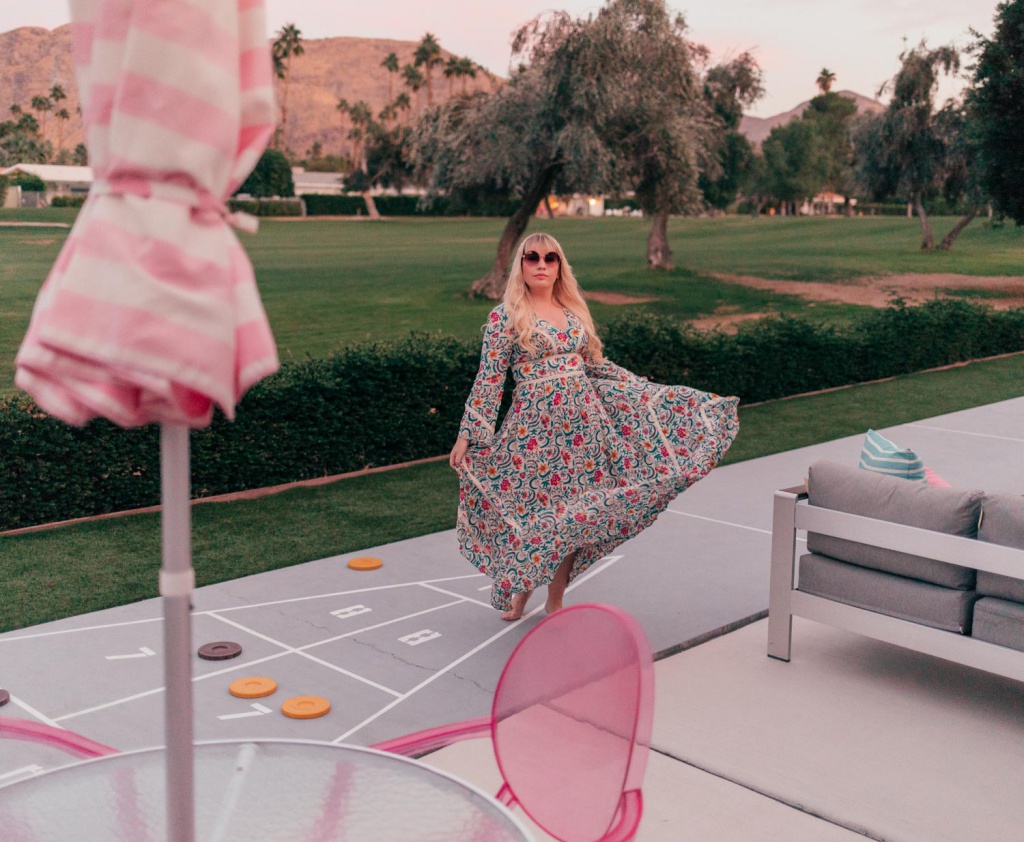 Photo courtesy of Lizzie in Lace.
Elizabeth is such a stylish fashion and travel blogger, and we just love the fairytale world that she has created at Lizzie in Lace. We were honored that she chose to stay with Acme during her Palm Springs getaway, and we're thrilled to hear about how much she loved Pretty in Pink!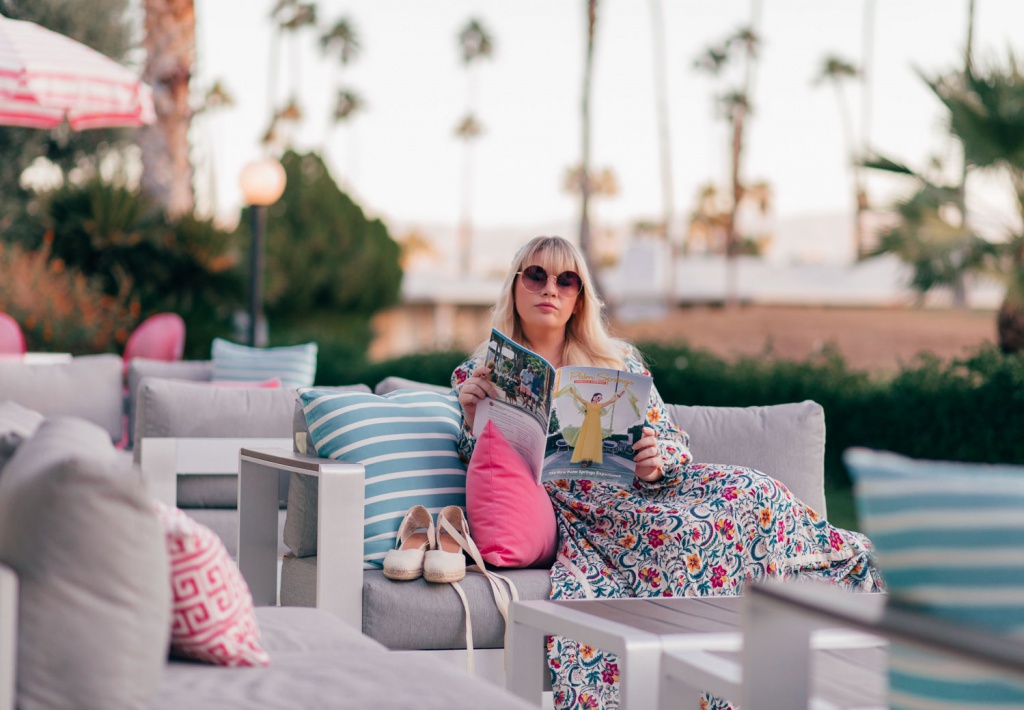 Photo courtesy of Lizzie in Lace.
In fact, Elizabeth and her group loved the house so much that they barely left it. They enjoyed staying in and making the most of all the amenities this gorgeous home has to offer. That included a few rounds of mini-golf, lots of poolside lounging while enjoying Palm Springs' perfect weather, and spending quality time with each other – what else do you need?
Photo courtesy of Lizzie in Lace.
"It was honestly like living in a dream." – Elizabeth Hugen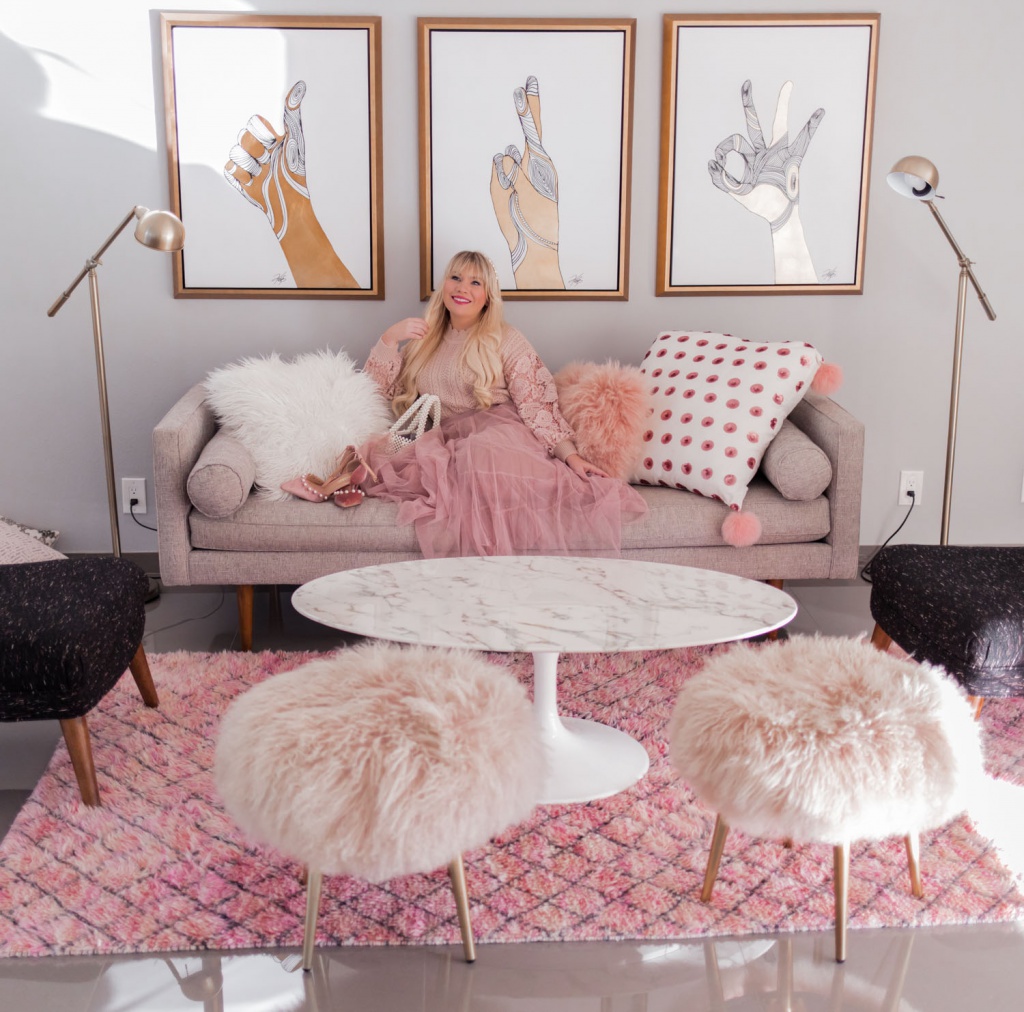 Photo courtesy of Lizzie in Lace.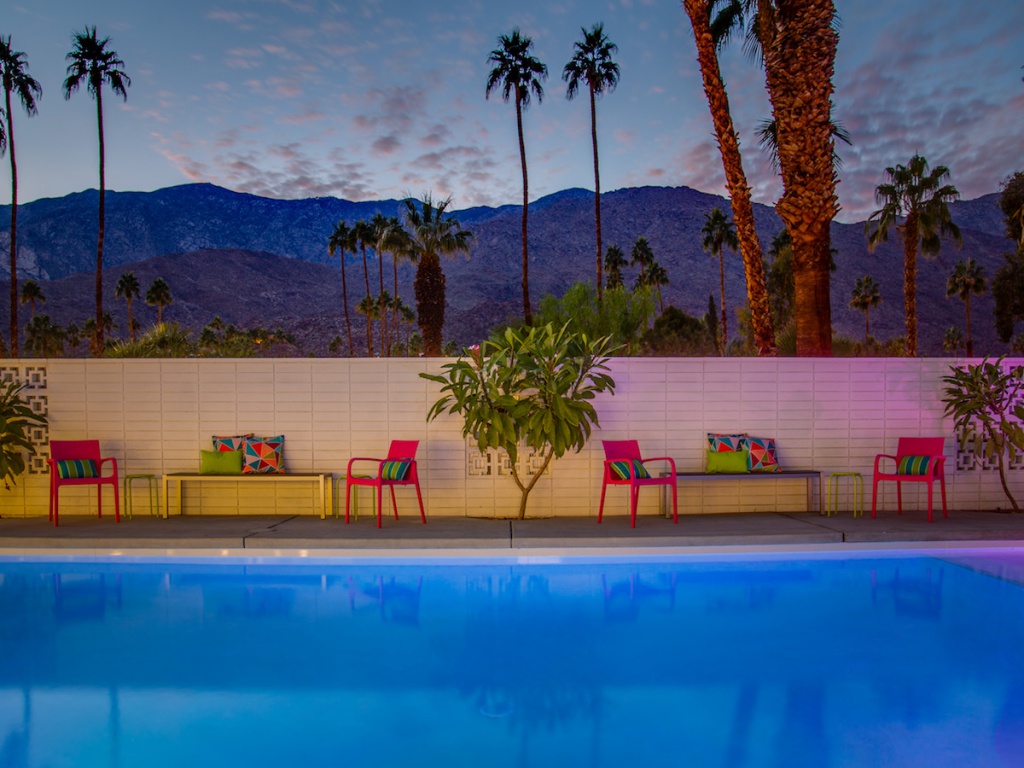 Pretty in Pink at the Indian Canyons
4 Bedrooms | 3.5 Baths | Sleeps 8
Midcentury villa on Millionaire's Row in the Indian Canyons, located on the golf course. Completely enclosed pool area with a pool, tanning deck, spa, putting green, firepit & mountain views.
More pictures & booking details
Click Here to Read Elizabeth's Full Blog Post About Her Fabulous Palm Springs Getaway.
About Elizabeth Hugen: California fashion blogger behind the delightfully feminine and creatively curated fairytale world that is Lizzie in Lace. Follow her on Instagram!
ABOUT THE WRITER: Modern Mary is a traveling gadabout who adores everything Palm Springs – from the architecture and design to the art, fashion and lifestyle. A social butterfly in the most modern sense – Mary enjoys swanky cocktail parties, gallery openings, music festivals, shopping and anything pink or yellow. She is a frequent contributor to the Acme Blog – keeping our readers up to speed on who is staying at our fab fab vacation rental homes and what's going on in Greater Palm Springs and the surrounding desert cities of the Coachella Valley. Modern Mary loves big floppy hats, Jackie O sunglasses and prefers sensible shoes over back-breaking high heels.
ABOUT ACME HOUSE COMPANY: Acme manages Luxury Vacation Rental Homes & Condos in Greater Palm Springs and the surrounding desert cities, catering to those looking to travel to the world-renowned destination for the season, week-long stays and extended weekends. Fabulous pool homes for when you and your peeps want some together time. Visit Acme's Website to explore more Palm Springs Vacation Rental Homes.
Read the Condé Nast Traveler article that included Acme House Company on their list of Top 10 Vacation Rental Managers to Trust Worldwide. Palm Springs Life Magazine's Reader Survey named Acme House Company the Best of the Best in Vacation Home Rentals. We manage our Palm Springs Vacation Home Rentals like 5-Star Resorts. Just like home but way better.