Experience The New Camel Connection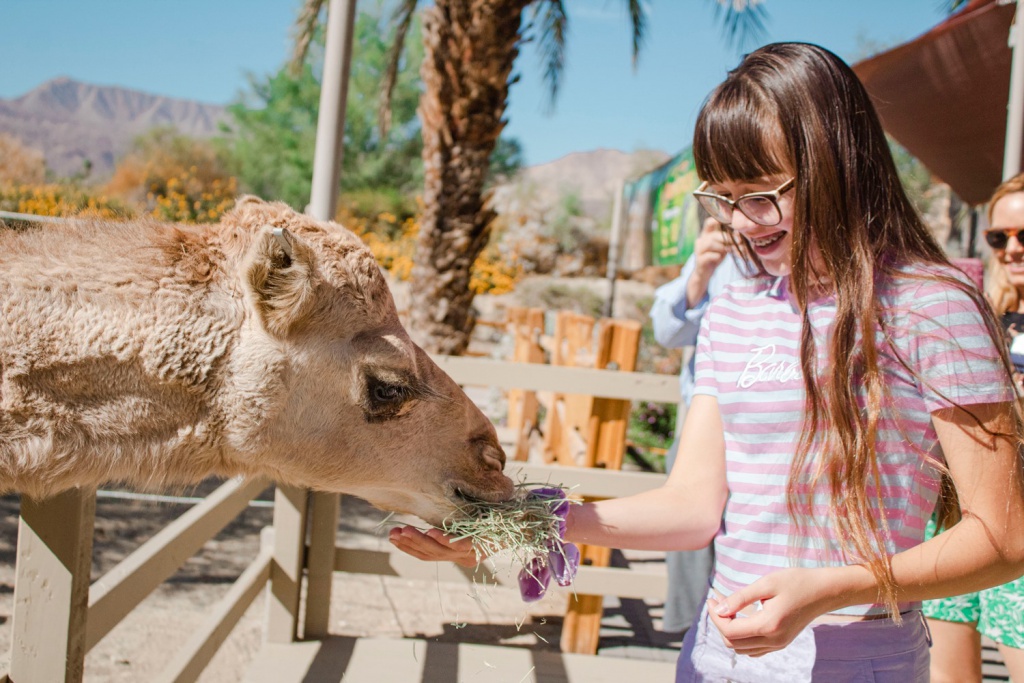 Photo: The Living Desert Zoo & Gardens
The Living Desert Zoo & Gardens is one of the most fun and educational attractions in the Palm Desert area. One experience you won't want to miss out on is their new Camel Connection!
It's a unique opportunity to get up close and personal with their camel caravan for a unique experience that may include feeding, grooming, training, and more.
All proceeds benefit The Living Desert's mission of conservation through preservation, education and appreciation.
Season Hours:
Open Daily October 1 – May 31, 8:00am to 5:00pm
Summer Hours:
Open Daily June 1 – September 30, 7:00am to 1:30pm
Address:
47900 Portola Ave, Palm Desert, CA 92260
ABOUT THE WRITER: Modern Mary is a traveling gadabout who adores everything Palm Springs – from the architecture and design to the art, fashion and lifestyle. A social butterfly in the most modern sense – Mary enjoys swanky cocktail parties, gallery openings, music festivals, shopping and anything pink or yellow. She is a frequent contributor to the Acme Blog – keeping our readers up to speed on who is staying at our fab fab vacation rental homes and what's going on in Greater Palm Springs and the surrounding desert cities of the Coachella Valley. Modern Mary loves big floppy hats, Jackie O sunglasses and prefers sensible shoes over back-breaking high heels.
ABOUT ACME HOUSE COMPANY: Acme manages Luxury Vacation Rental Homes & Condos in Greater Palm Springs and the surrounding desert cities, catering to those looking to travel to the world-renowned destination for the season, week-long stays and extended weekends. Fabulous pool homes for when you and your peeps want some together time. Visit Acme's Website to explore more Palm Springs Vacation Rental Homes.
Read the Condé Nast Traveler article that included Acme House Company on their list of Top 10 Vacation Rental Managers to Trust Worldwide. Palm Springs Life Magazine's Reader Survey named Acme House Company the Best of the Best in Vacation Home Rentals. We manage our Palm Springs Vacation Home Rentals like 5-Star Resorts. Just like home but way better.