Welcome to "In Their Words" – a blog series where we learn about the Acme Vacation Rental experience from the guest perspective.
We all know that Acme vacation rental homes provide the perfect setting for magical moments in the Coachella Valley, but there are as many ways to enjoy a Five-star Acme guest experience as there are Acme guests. Our loyal followers are such a colorful group of people doing creative and wonderful things in the world – we just love to get their take on what makes the Acme experience so special.
What's that we hear? It's Sara Auster, sound therapist and a leading voice in the wellness movement. Her sound meditations were named a "top meditation" by Oprah Magazine, and the unique sound bath experiences she creates have been featured in the New York Times, Vice, Billboard and more.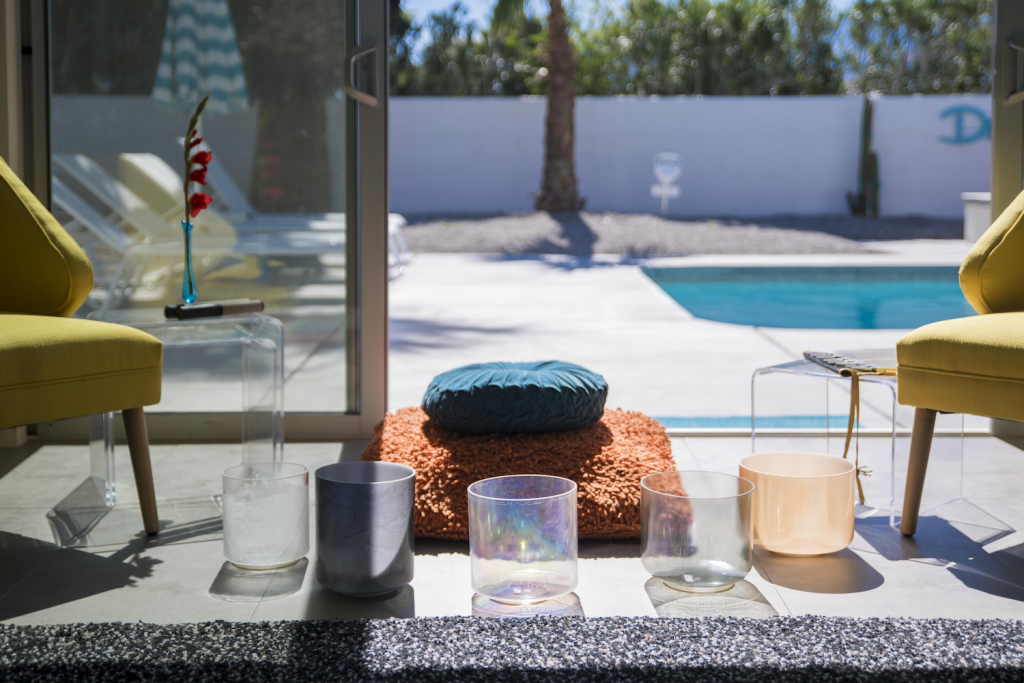 So what is a sound bath, anyway? "A sound bath is a gentle, yet powerful, experience for the mind and body," Sara explains. "The sounds are created by a variety of instruments, including tuning forks, gongs, crystal singing bowls, chimes, and voice. The aim is to invite deep rest and relaxation."
Sara has led sound bath experiences for up to 10,000 people at a time in venues such as The Museum of Modern Art, and Madison Square Garden. Her work recently brought her to Palm Springs where she led an amazing sound therapy experience in the desert and lounged at Acme vacation home "Dive-In Palm Springs" in her downtime, but we'll let her tell you about that!
So… what brought you to Palm Springs?
I'm a Sound Therapist and Meditation teacher from New York City. Once or twice a year I lead private group Sound Baths at The Integratron in Joshua Tree.

I've always been attracted to the vibe of Palm Springs; it has the chill and calm of the desert but the food scene and culture of a city.
Was this your first time in the area?
This trip was my first visit to Palm Springs but definitely not the last.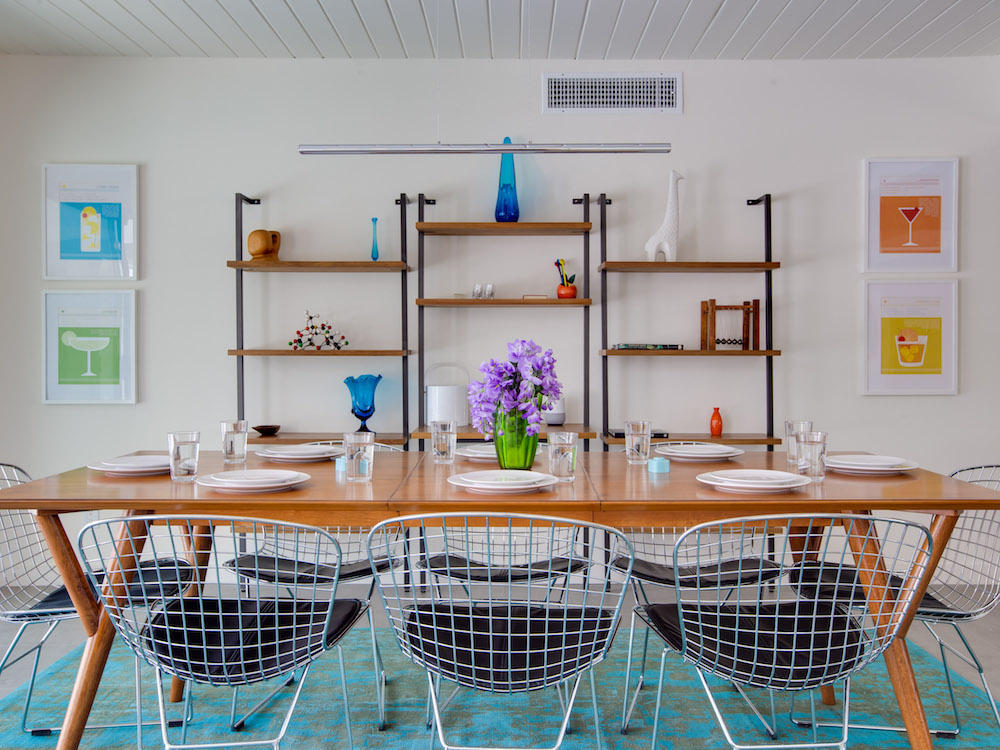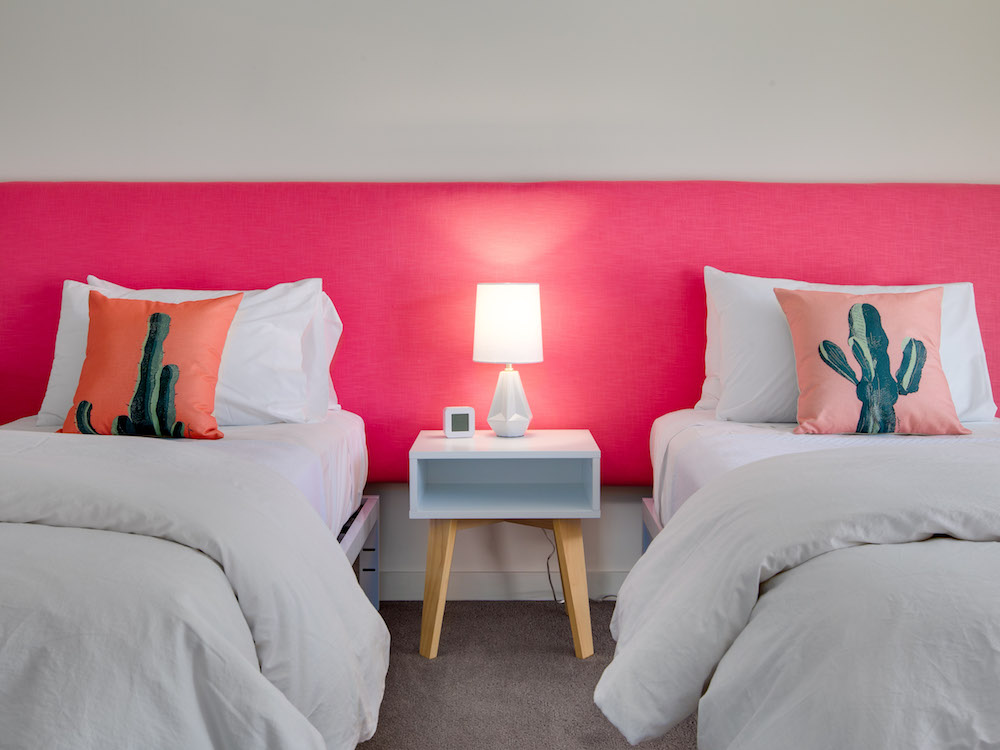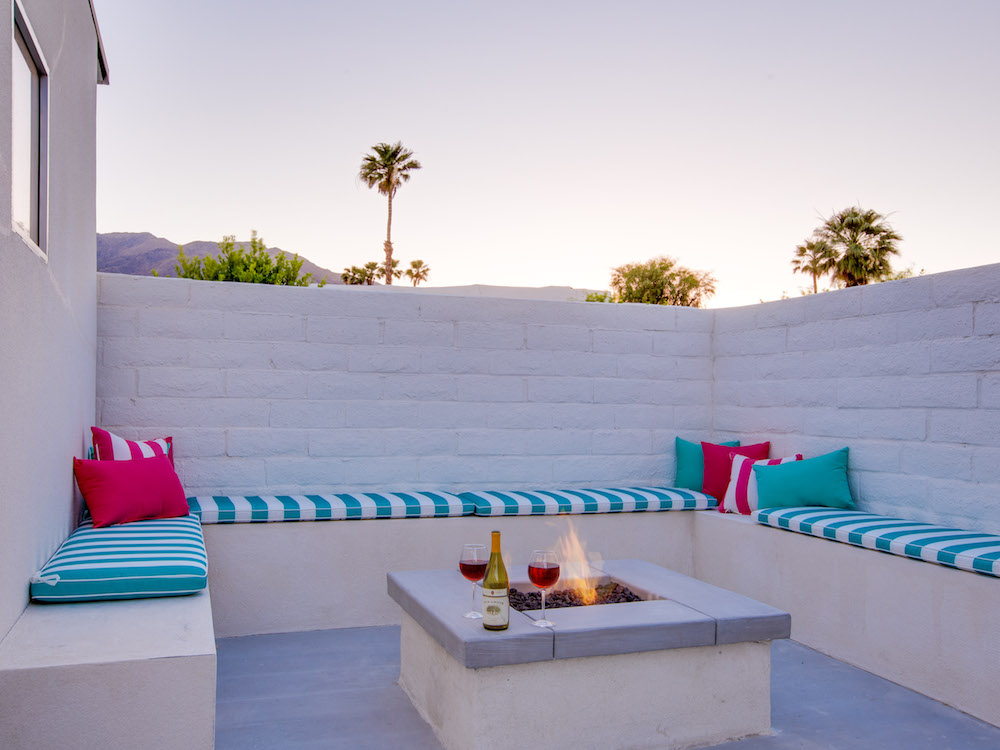 What did you love about Acme's Dive-In Palm Springs vacation home?
The Dive-In is a picturesque dream – what I always envisioned Palm Springs would be like. Gorgeous mid-century modern architecture and furnishings with a giant pool and fire pit for hosting fabulous gatherings. It's like being transported to another time. Even though I was there for work, it felt like one of the most relaxing vacations I've had in a long time.

Click here for more pictures and booking details about Dive-In Palm Springs.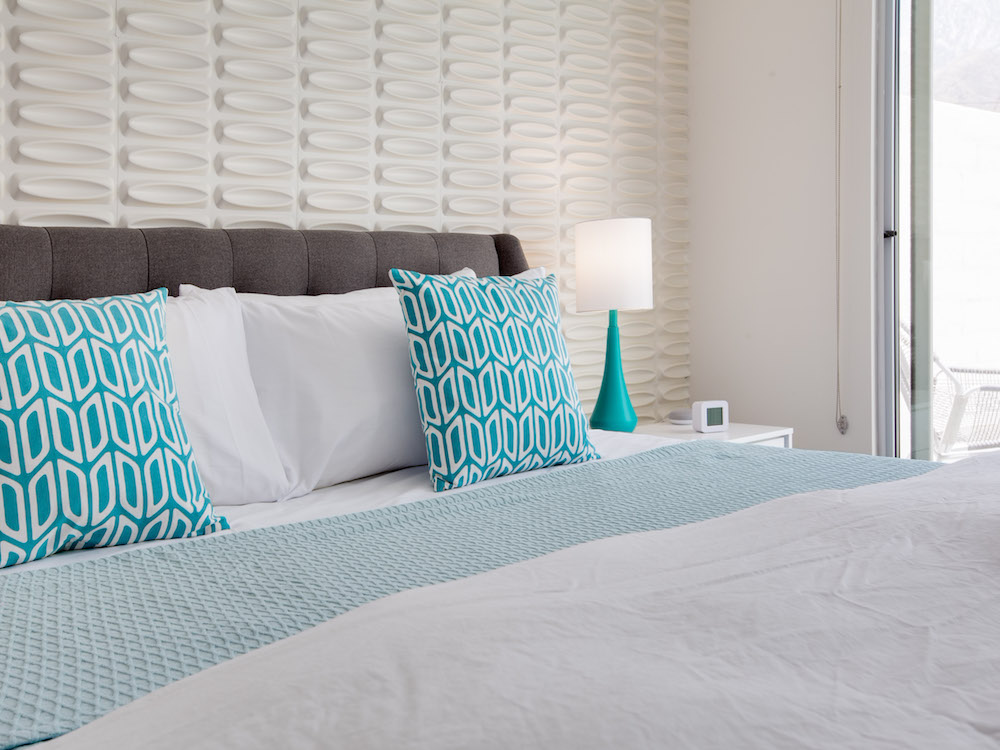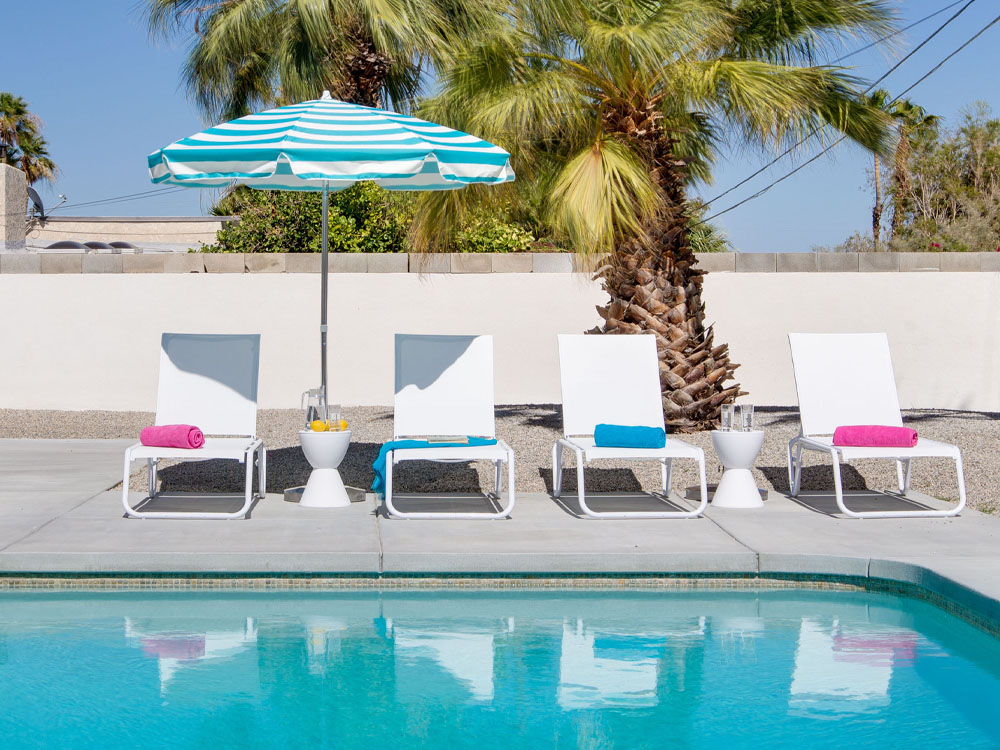 How did Acme help you work or play during your stay at the Dive-In?
The Dive-In is fully stocked with everything you could ever need. It feels like a home away from home. Plus I felt so taken care of by the concierge team. They were available around the clock.
Any food or beverage experiences in Palm Springs that you can't stop thinking about?
4 Saints. Hands down.
Everyone has their magical Palm Springs moment – what was yours?
Sitting around the fire feature at the Dive-In, looking up at the stars after a night dip in the hot tub. Magic.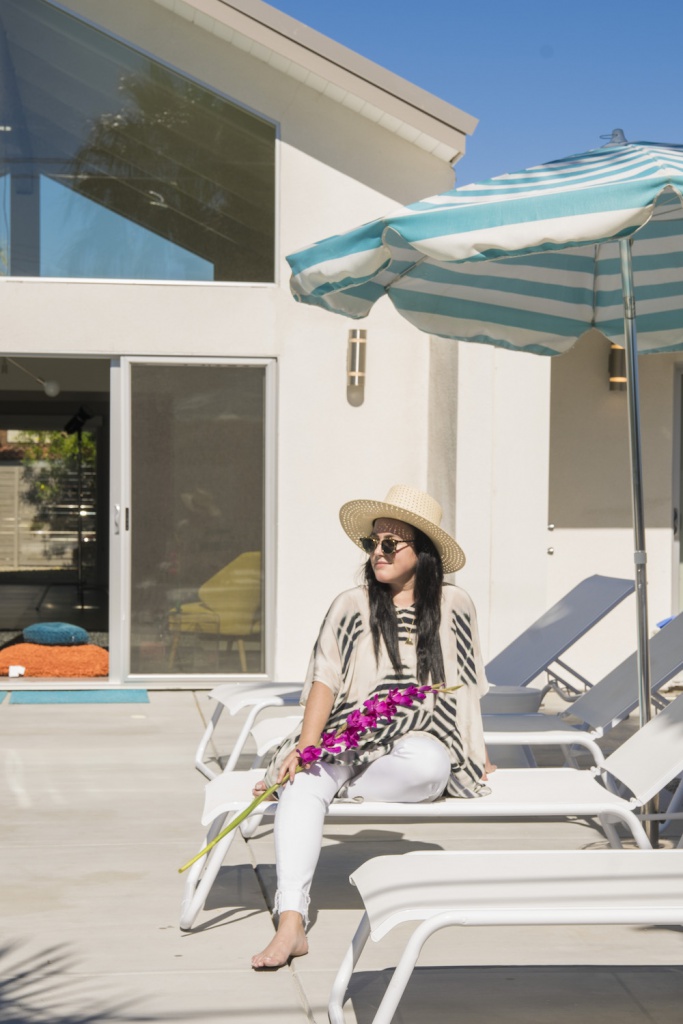 What would you love to do on your next visit that you didn't get a chance to do this time around?
More of the same! It was perfect. I can't wait to come back and do it all again!
If a movie was made about your trip, what would it be called?
A Dive-In to the Desert
ABOUT THE WRITER: Modern Mary is a traveling gadabout who adores everything Palm Springs – from the architecture and design to the art, fashion and lifestyle. A social butterfly in the most modern sense – Mary enjoys swanky cocktail parties, gallery openings, music festivals, shopping and anything pink or yellow. She is a frequent contributor to the Acme Blog – keeping our readers up to speed on who is staying at our fab fab vacation rental homes and what's going on in Greater Palm Springs and the surrounding desert cities of the Coachella Valley. Modern Mary loves big floppy hats, Jackie O sunglasses and prefers sensible shoes over back-breaking high heels.
ABOUT ACME HOUSE COMPANY: Acme manages Luxury Vacation Rental Homes & Condos in Greater Palm Springs and the surrounding desert cities, catering to those looking to travel to the world-renowned destination for the season, week-long stays and extended weekends. Fabulous pool homes for when you and your peeps want some together time. Visit Acme's Website to explore more Palm Springs Vacation Rental Homes.
Read the Condé Nast Traveler article that included Acme House Company on their list of Top 10 Vacation Rental Managers to Trust Worldwide. Palm Springs Life Magazine's Reader Survey named Acme House Company the Best of the Best in Vacation Home Rentals. We manage our Palm Springs Vacation Home Rentals like 5-Star Resorts. Just like home but way better.