Let's talk turkey! So what are you thankful for? One of my favorite things about Thanksgiving is that I get a 5 day weekend! Yay!! I love to plan a fun weekend with my friends and family. What's better than getting away and staying at a beautiful home in Palm Springs and cooking in a fabulous kitchen?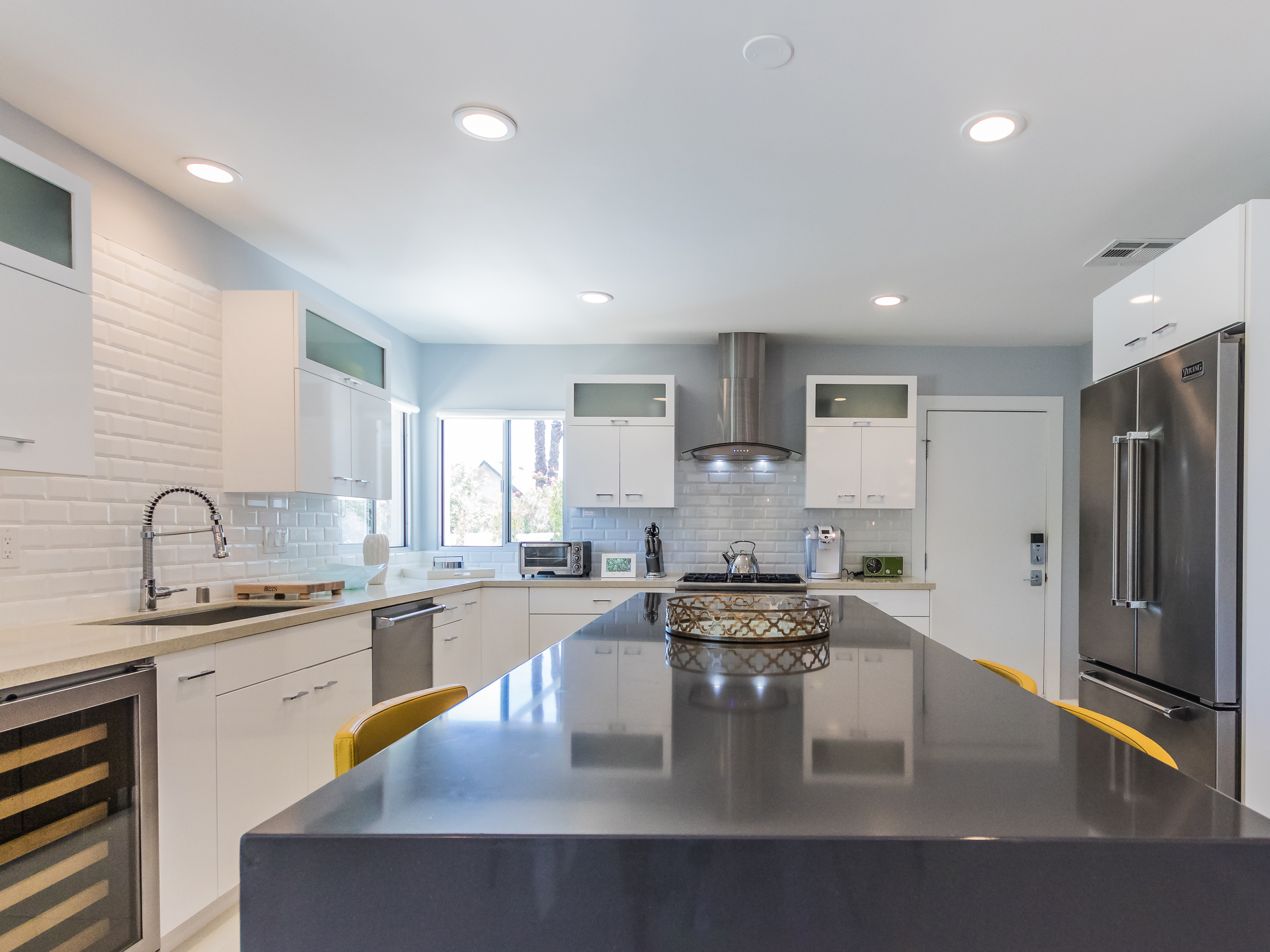 Or having catering or a private chef in to dress the turkey while you spend the day laying around the pool with your family and friends. Poolside turkey prepared for you by a pro – is the best! And there's NO cleanup!!!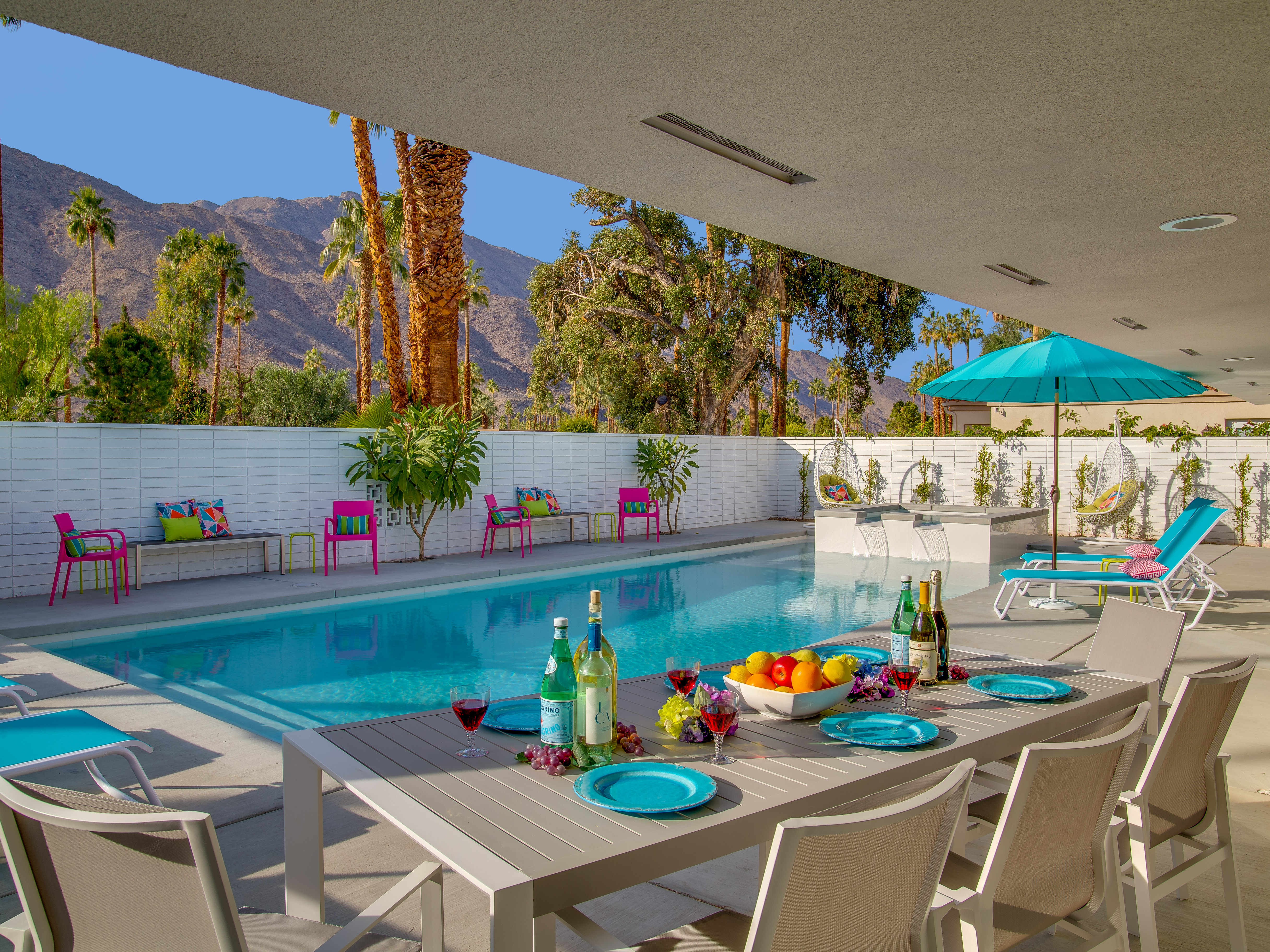 Acme House company still has some Fabulous Pool Homes available for Thanksgiving weekend. Don't miss out! An impromptu Thanksgiving! Pack up the kids and the bird and come to beautiful Palm Springs. Or grab a few of your friends who have decided not to go back east to join their family for the holiday.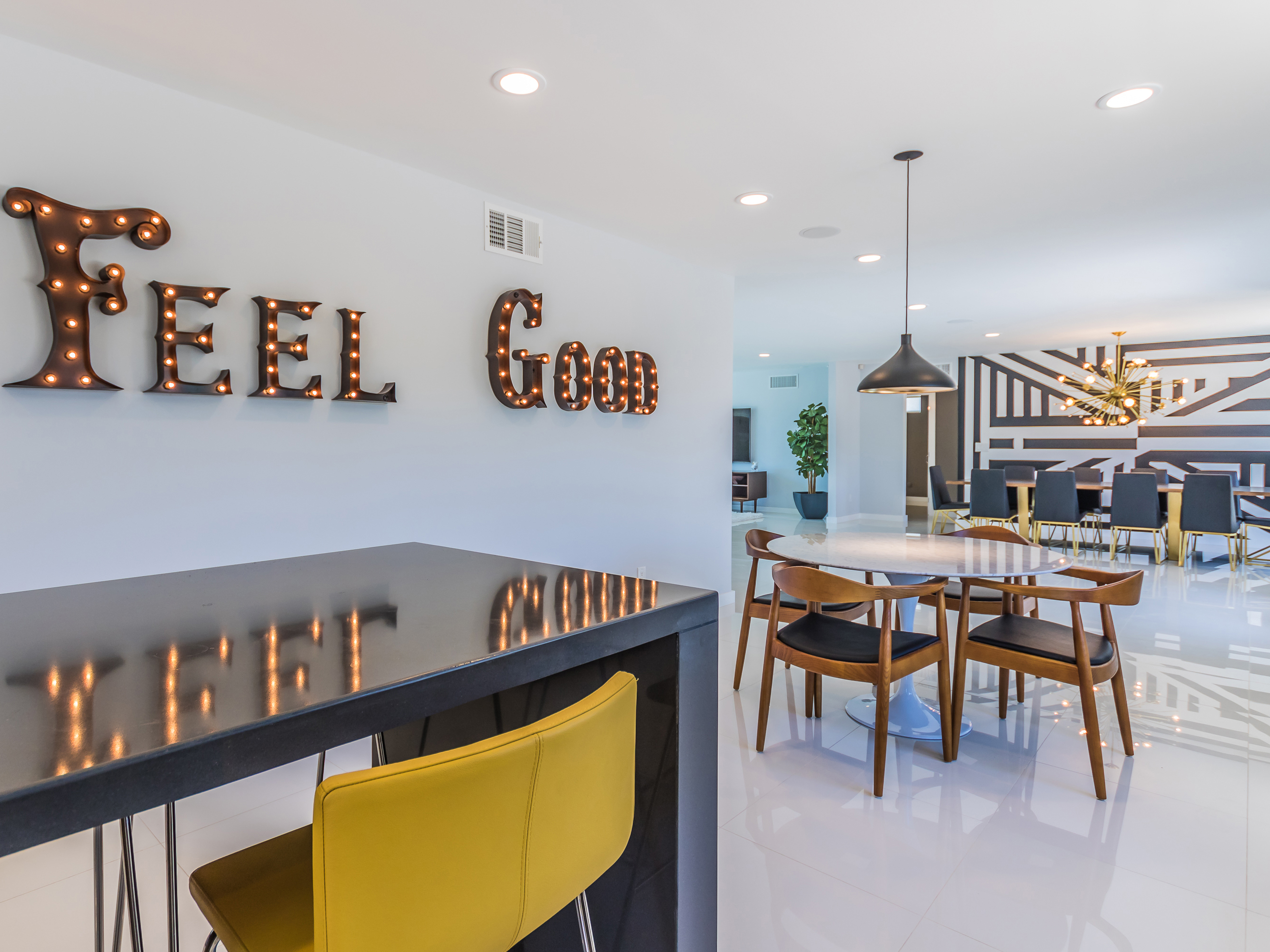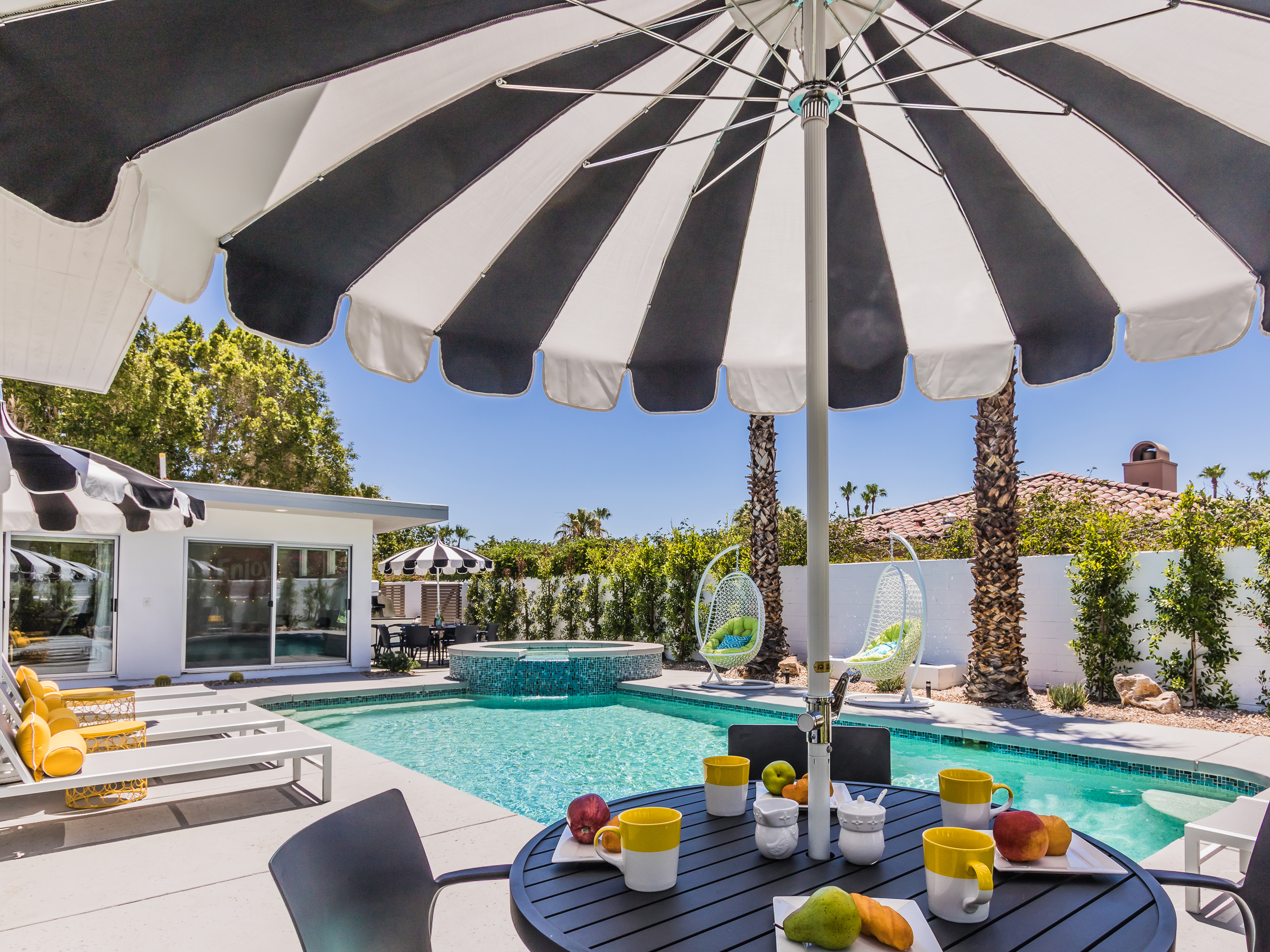 The Feel Good House is located in the El Mirador Neighborhood. Bring the whole family for the Holidays to this Fabulous home. It'll make you feel good! This home sports 2 Master suites and 2 guest quarters. Allowing everyone to have their privacy.
The Feel Good Home is a walled and gated for privacy. It sits on a quiet residential street within walking distance to town. You'll find spectacular mountain views, a resort-style pool yard, and an open concept floor plan decorated with period-inspired art and furnishings. All of the sleeping quarters are plush and luxurious. The bathrooms and kitchen are gorgeous. And the property has all the upgrades you are looking for: 3 zone heat/air conditioning, two fireplaces, rain head showers, six Smart televisions with streaming capability, high-speed internet access and a sound system with built-in speakers.
The Center Court Villa is another perfect rental home for Thanksgiving. It's smack in the middle of town, so when you're drowsy from all that tryptophan from turkey, you can stroll into town and walk off that food coma.
Center Court Villa is walled and gated for privacy. Handsomely updated. Now available as a Palm Springs vacation home rental for the first time. You'll have the entire villa and everything that goes with it – to yourselves. That includes 2 bedrooms with King beds. Fabulous pool yard. Poolside chaise lounges, shade umbrellas, and al fresco dining. Decadence — in true Palm Springs-style.
The Quintessential is your home for Thanksgiving poolside dining. A dining table lies side by side of the pool and only steps away from the kitchen which makes it the perfect home to serve your family- Palm Springs Style.
Great location! This mid-century executive home is in the exclusive Deepwell neighborhood, just a short stroll to the world-famous Palm Canyon Drive. This luxury vacation villa has been space planned for comfort and easy living. Very private resort-style pool yard with incredible mountain views, lush mature landscaping, covered outdoor dining, sunswept pool and spa, fireside lounge, and so much more. Completely remodeled for the way we live today – you'll find updated kitchen & baths, high-speed internet, four flat-screen TVs, fabulous sleeping quarters and walls of glass that blur the lines between indoor and outdoor living. Sleeps 6.
BELLA MUSICA – 4 Bedroom / 5 Bath / Sleeps 8
Bring the whole family! Kids, cousins and that mother in law! This hilltop sprawling estate has 4 bedrooms and 4 1/2 baths and no one will be on top of one another. Stretch out, lounge out, and take in the breathtaking views.
Bella Musica is a sprawling private estate perched on a secluded parcel in Little Tuscany, one of Palm Springs' most exclusive and picturesque neighborhoods. You'll feel like you just stepped into an episode of Lifestyles of the Rich & Famous. This Spanish-style ranch home has been updated for the way we live today. 5 flat screen televisions, high-speed internet, gorgeous kitchen with stainless steel appliances and quartz countertops. You'll find nearly 3,500 square feet of pure decadence that blurs the lines between indoor and outdoor living.
Made in the Shade is a retro-chic designer home located on a quiet residential street in the heart of Palm Desert. You'll be just a short stroll from everything.
Fabulous Palm Desert Vacation Home. Completely remodeled. In town location. 3 Bedroom / 2 Bath / Sleeps 6. Very private resort-style pool yard with spa, covered dining pavilion, outdoor lounge area w firepit. Off street parking.
The entire property has been completely remodeled. Everything is new — kitchen and baths, the salt water pool/spa' the doors, windows, floors, even the electrical and plumbing. It's like a brand new house – but better! There's a new-tech climate control system that offers room to room temperature zones – so everyone in your group can be comfortable. This is a very special property created specifically for easy living in the sunshine.
So Who Will Be Cooking Thanksgiving Dinner?
Palm Springs is a great place to spend Thanksgiving. So whether you are staying in or going out – here are some options for those who don't want to do the cooking:
Kiernan Fleming, the Executive Chef of The Steak House at the Spa Casino and his brilliant team will cook you an entire Thanksgiving dinner and deliver it to your Acme vacation home.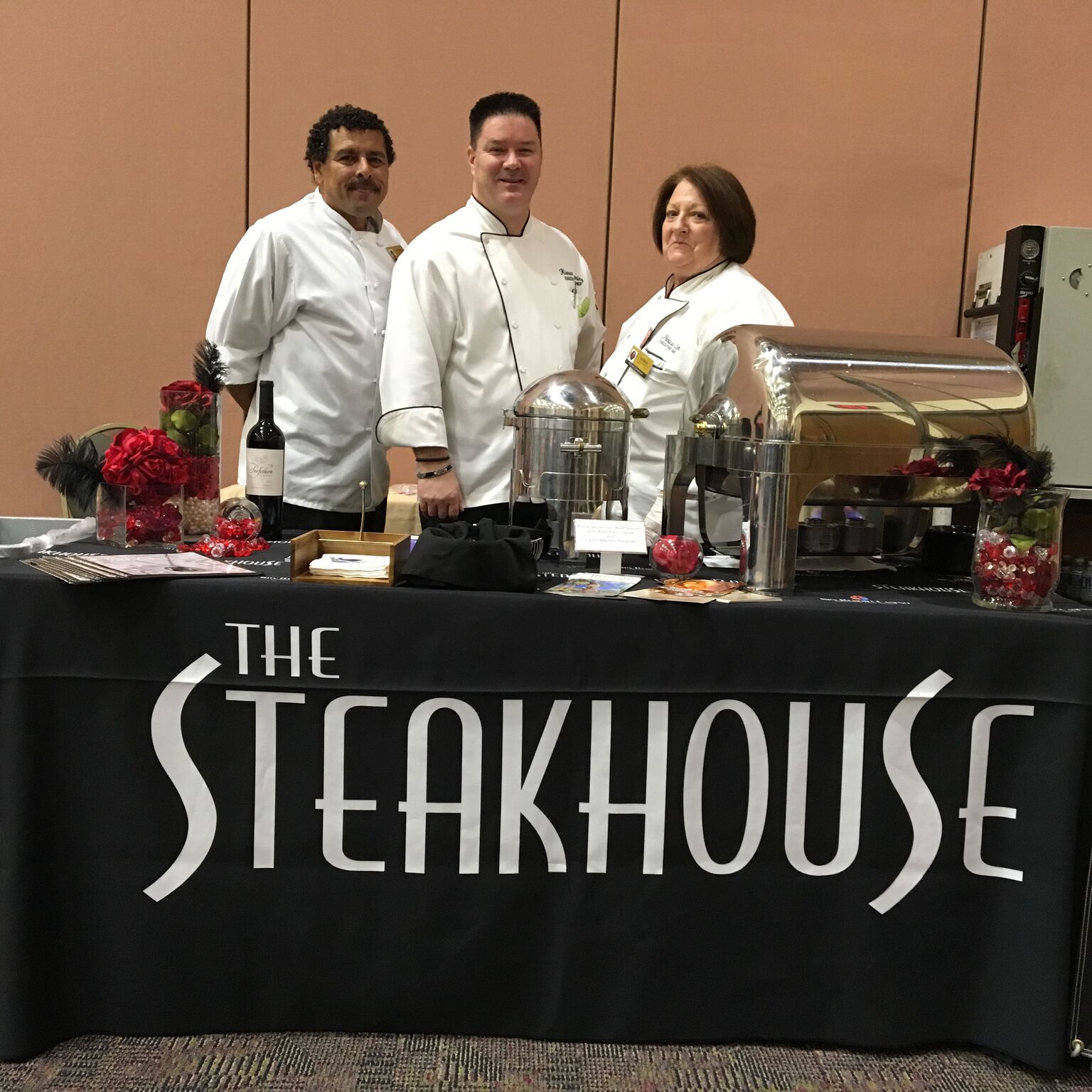 Want to get out? Take a stroll down to Eight4Nine Restaurant & Lounge for a 4-course Thanksgiving dinner. Serving from 1PM-9PM. Just $56 per adult and $28.00 per child. Take a look at what they offer on their Thanksgiving menu. Located at- 849 N Palm Canyon Dr. in the Uptown Design District.
Lulus' California Bistro offers a "Dine-in" or "To-go" Thanksgiving Feast. Serving from 1PM-6PM. Check out their Fab fab menu. 200 S Palm Canyon Dr.
Mr. Lyons 233 E. Palm Canyon Drive offers a dine-in menu as well. You can view their menu here.
Trios 707 N. Palm Canyon offers a 3-course dine-in Thanksgiving meal for $49.00 per person. You can see their Thanksgiving menu here.
If you'd like to stay "home" and eat poolside, check out the catering services from these favorite grocers:
Jensen's Finest Foods—Just order at the deli service counter. These items are perfect for your Thanksgiving poolside feast—green beans, cranberry relishes, candied yams, potatoes or oven-ready turkeys. 2465 E Palm Canyon Drive, Palm Springs. Information: (760) 325-8282 or www.jensensfoods.com.
Whole Foods Market—Call and place your order. 44-459 Town Center Way, Palm Desert. Information: (760) 797-8200 or www.wholefoodsmarket.com/stores/palmdesert.
Bristol Farms—Bristol Farms has lots of meats to choose from. From the traditional turkey, and spiral hams, to prime rib, pork loin, goose, and poached salmon. They'll also offer all the trimmings like- cornbread stuffing, butternut squash soup, butternut risotto, honey-glazed carrots, green beans almondine, brussels sprouts au gratin, scalloped potatoes, mashed potatoes, candied yams, gravy, fresh cranberry chutney, apple cobbler, cranberry relish and pumpkin pie. 73101 Country Club Drive, Palm Desert. Information: (760) 674-0169.
Ralph's—Order online or stop in one of their locations to try their prepared options that can complete a Thanksgiving spread.
Things To Do in Palm Springs
Palm Springs is just about two hours away from San Diego and Los Angeles. Daily flights are available to the Palm Springs International Airport from major U.S. cities.  You'll find the sun shining some 350 days per year, world-class golf courses, amazing hiking trails, fabulous restaurants and an entire city that is dedicated to celebrating midcentury modern design and architecture.
ABOUT ACME HOUSE COMPANY:  Acme manages Luxury Vacation Rental Homes & Condos in Greater Palm Springs and the surrounding desert cities, catering to those looking to travel to the world-renowned destination for the season, week-long stays and extended weekends. Fabulous pool homes for when you and your peeps want some together time. Visit Acme's Website to explore more Palm Springs Vacation Rental Homes.
Read the Condé Nast Traveler article that included Acme House Company on their list of Top 10 Vacation Rental Managers to Trust Worldwide.  Palm Springs Life Magazine's Reader Survey named Acme House Company the Best of the Best in Vacation Home Rentals. We manage our Palm Springs Vacation Home Rentals like 5-Star Resorts. Just like home —- but way better.